The Ooni of ife Oba Adeyeye Babatunde Enitan Ogunwusi Ojaja II has now returned home to Ile Ife. His tour of the USA was well celebrated and well received. The Ooni and his entourage made a point of visiting as many African American and Nigerian events as he could. He visited the Odunde Festival, and was hosted at many galas and receptions. The Sango performance at the Smithsonian Museum was memorable for those in attendance and also the local fire service.
The Ooni also received many guests, including some of the high priests of the Ifa Religion in the USA. All in all , Yorubas in America and everywhere have enjoyed greatly this momentous outing of our dashing, young ,stately Ooni. It was a great success and I feel sure that the ancestors are pleased. The Ooni also attended worship at the Redeemed Christian Church of God in Maryland. This is where the rancour was evoked.
Through the years of colonial oppression and now through the years of the Christian/Muslim Nigerian entity many high profile Yorubas of the last 2 centuries in Nigeria turned their backs on Yoruba Spirituality.
Hope was restored by the enthusiasm and passion of the Kabiyesi Ooni Ogunwusi towards reviving Yoruba culture at home and abroad. Especially because Yoruba culture and spirituality are intertwined. People thought " good, now we have a young Ooni who will focus on ALL aspects of Yoruba history and culture, who will STAND as the spiritual leader for ALL Yorubas worldwide, and as the biggest defender of Yoruba Spirituality".
After all, the culture we cherish, the monuments to our past achievements and rich history were all created by our forefathers who knew no other religion except Ifa and Orisa. What we are proud of now, belongs to them. Without any oyinbo interference they created many varieties of art, textiles and political systems which remain to this day, and Ile Ife was their centre point. Ile Ife is historically the custodian territory of Yoruba spirituality, and every ruling Ooni its guardian.That is the role of the Ooni.
Within a short time of ascending the throne , it was clear that whatever spirituality our handsome Ooni was to be the champion of , it wasn't going to be the traditional Yoruba one. How do you advocate for something you yourself are dismissive of? This picture of the Ooni bowing to God in church was splashed in all the Nigerian media ( gleefully by those who have no love for Yoruba Spirituality).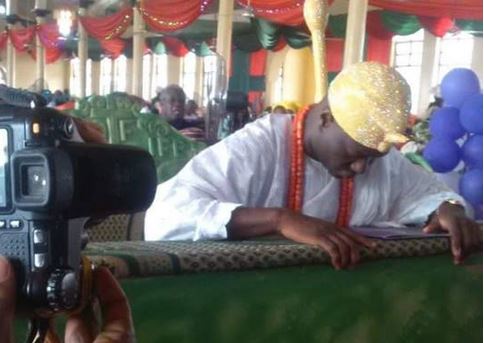 ooni bowing in church
Of course, there is nothing wrong with Ojaja II bowing to God, Yoruba religion is monotheistic, but why a church, people asked. Did the Ooni not believe that God could be paid homage to in any of the many traditional shrines surrounding his palace? Why did he sweep past all of them, head for the church and pose for a photo ? Was he sending a message? To whom? Surely not God…..That controversy raged for a while.
The Ooni before his trip to the USA made strong moves towards promoting Yoruba language , he is to be commended for this but now cynics could ask, if he cannot call the Almighty by his Yoruba name OLODUMARE, and worship Him as OLODUMARE, and sing a song to OLODUMARE on Fathers Day, why should little kids believe any of us when we tell them it's important to preserve the language . And why do we harp on about Africans giving their kids English names when we Yoruba and our spiritual leader ,have given our OLODUMARE an English name ie Jesus? Doesn't this make us ( His Majesty included) confused at best , and hypocritical at worst?
Sadly, all of this points to the deep rooted problem of identity within our Yoruba population and African psyche worldwide . It's a sorry state of affairs to see that not even the identity of our Creator is sacred when it comes to this issue of self esteem. We were very thoroughly re-programmed.
We cheered when Kabiyesi got out of his vehicle and gave Olokun's blessing on Philadelphia bridge, but his subsequent act in the RCCG venue left people questioning whether this was a perfunctory gesture for the cameras.
Where exactly is our king's heart spiritually? Should we even be put in a position where we have to question this? I suppose what would be ideal would be to have our Ooni as a true adherent exclusively of the Ifa Aborisa Isese ways to carry out with huge pride the Yoruba spiritual rites and head the Yoruba spiritual festivals, one who will uplift and preserve the religion in all its manifestations and one to whom the millions of Yoruba religion followers in Yorubaland and worldwide, can look to with pride for guidance and as a unifying symbol.
Then Aborisa and Isese followers would not suffer the humiliation of seeing their Igbakeji Orisa singing a Sunday school song with all his heart to the foreign god of the oppressors who took away their freedom, identity and tried cruelly to strip them of their humanity and suppress their religion for centuries.
Anyway if you didn't see it before, here is a video of Oonirisa Enitan Adeyeye Ogunwusi singing to Jesus his Father, because Jesus in Christianity is seen as the same as the Creator, the Almighty, though many argue that Jesus is as mythical as Buddha therefore , he (Jesus) is just another deity. Albeit a Jewish one, and clearly the preferred deity of our Oonirisa.
Yoruba Traditional Religion devotees in Nigeria especially are used to being discounted and disregarded but I would call this video a slap in the face.