Two culprits, Banji Adedayo(40) and Tope Daramola (45) who got away jail amid the Ekiti-state escape in December 2014 have been re-captured by the Ondo state police command for armed robbery.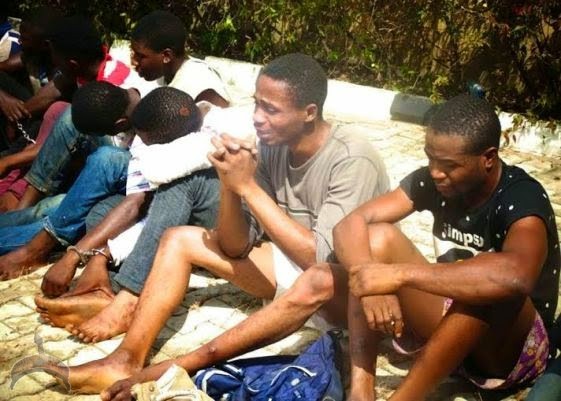 Parading the men with other offenders before newsmen today, the Ondo state police Commissioner, Isaac Eke, said the suspects, subsequent to getting away from jail, joined a five men outfitted burglary gang that have been threatening Akure since March this year.
They were captured after they victimized one Mr. Remidayo Komolafe of his Toyota Sienna Bus with Reg. No. KJA 790 CH, estimated at N1.6 million on Ondo Road in Akure. They likewise forcefully gathered five cellular telephones from the casualty, estimated at N200,000 and also different belonging. "Upon police interrogation [the men] confessed to the crime and other robbery cases, including an Ekiti State bank robbery, and both were inmates who escaped from Ekiti jailbreak," he said.
Additionally paraded are hoodlums who perpetrated different law violations.
See more pics bellow.