As the 2015/2016 European football seasons kick-off, fans in Africa and Nigeria are excitedly looking forward to the return of the world biggest sport. For many, weekends have been very 'boring' since the various leagues in England, Spain, France, Germany, Holland, and other major leagues came to an end.
However, the weekend schedule will soon be taken over by football as fans will begin watching their favourite clubs like Chelsea, Arsenal, Liverpool, Real Madrid, Barcelona, PSG, and Bayern Munich display their football finesse in order to be crowned champions at the end of the season. Husbands who have been home during the weekends, presently have a tenable reason to go out.
From FIFA records, there are over 1 billion fans in the world that religiously follow the king of sports and out of this billion, 260 million are Africans. The problem here is that with soccer being a passionate sport, many football fans support their teams in an undignified and unrestrained way which has led to the death of friends and foes alike.
With 20 teams vying for the cup and a total of 380 matches scheduled to be played Jovago.com, Africa's No 1 Hotel Booking Portal rolls out tips on how to stay safe when watching the English Premiership League matches.
Don't engage in Unnecessary Argument
The café or bar you are watching the match is filled with people with different temperament. You don't want to engage in an argument with a fanatic who can do anything to justify his support for his team. As earlier mentioned fans have died due to football arguments. On February 8th, 2014, an Arsenal supporter in Kenya stabbed a Liverpool fan to death after the former's team was defeated by the Merseyside team 5 goals to 1. Why? They were engaged in a bitter argument.
What you should do–Keep your lips sealed whether your team is winning or not.
Teasing a member of the opposing team
The rivalry between Real Madrid and Barcelona fans or between Chelsea and Arsenal fans can be very intense. For example, after Arsenal won the community shield, Arsene Wenger, the coach for the team refused to shake hands with the outspoken Jose Mourinho of Chelsea. This attitude usually diffuses to club fans as well. Supporters of opposing teams tease each other using statistics and other 'annoying' tactics. To stay safe, try not to hug a member of the opposing team when your team scores. It is advisable to control your excitement and keep your distance especially in viewing centre in a locale in Lagos.
Avoid football if hypertensive
Your health is more important than any football match. Don't attempt to watch an action-packed, high intensity and competitive game like the one between the blues and reds of Manchester if your blood pressure rises uncontrollably. Rather listen to radio commentary or follow live updates on the internet.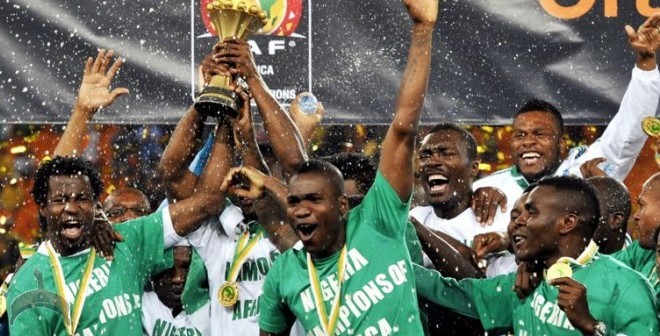 What you should do–Ask for the result of the match from your friend or you can check the result on Livescore.
Stay at home
Although many football enthusiasts say that soccer is better watched with friends at bars or viewing centres. However, if you are concerned about the aforementioned, it is logical to stay at home and view the match from the comfort of your living room. You can invite friends and have drink while at it too.
What you should: Make sure you hold on to the remote or else your wife or girlfriend may want to take over the television.