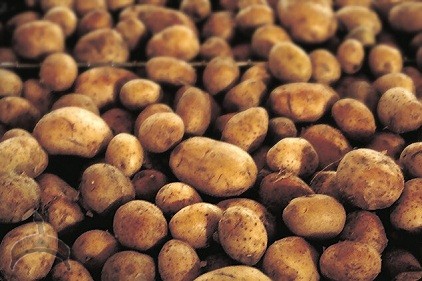 Consistent with President Goodluck Jonathan's Agricultural Transformation Agenda, the Ministry of Agriculture and Rural Development in collaboration with National Root Crop Research Institute (NRCRI) approved 22.5 metric tonnes improved potato seeds to combat potato blight in Plateau State and Nigeria in general.
This is disclosed by their state Commissioner for Agriculture Nanven Steven Barko, in a one-day training workshop on modern agronomic practices on Irish potato production and pest/disease management, organised by Potato Value Chain, in Plateau State. The commissioner expressed his gratitude to President Jonathan for approving the request of their state government to import 22.5mt of disease-free, high-yielding Solana seed-potato from Germany for demonstration and trials.
"It is hoped that these efforts would go a long way to help Irish potato farmers come out of the present unfortunate situation where some farmers have lost virtually everything they had to the recent potato blight disease," the commissioner stated.
Ministry of Agriculture and Rural Development Permanent Secretary Mrs Ibukun Odusote, also speaking throughout the occasion, stated the Irish potato is among the important food crops in Nigeria.
"This was what prompted the farmers' capacity training, because if irish potato farmers can acquire good knowledge on modern best practices in potato production and pests/diseases management, it will help farmers employ various strategies to safeguard their farms against future challenges," she said.
President Jonathan's Agricultural Transformation Agenda has received global acclaim because of its success in repositioning the sector and moving Nigeria forward to the trail of full self sufficiency in food production.