Nigerian couple Lizzy Idahosa, 24 and Jackson Omoruyi, 41, have been sentenced to jail in the UK. Lizzy got 8 years in jail for s3x trafficking and Jackson got 2 years for tax evasion.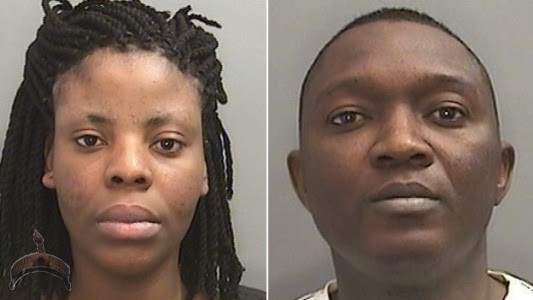 The mother of one, who is presently intensely pregnant with Jackson's second infant, was discovered liable of trafficking ladies to and around the UK and actuating prostitution and IRS evasion.
Her accomplice Jackson, charged £50,000 to go from Nigeria and false archives from the women they brought and made them work in houses of ill-repute where they engaged in sexual relations with 7 or 8 men a day to pay their obligations.
Their victims said that before flying out to London on the guarantee of a superior life, they had been subjected to "juju" customs in which they consumed snails and snakes, had their hair shaved, drank filthy water and were trimmed with a razor. They were additionally debilitated with ailment, frenzy, barrenness and demise in the event that they ever spoke up.