Hello to all my brothers, sisters, father and mother.
As we all know that the Esu is not Satan campaign is fast approaching for the second time, I have some things to clear out.
This campaign is not and can never be done by one person, it's a collective work and it will take me and you to right what needs to be right.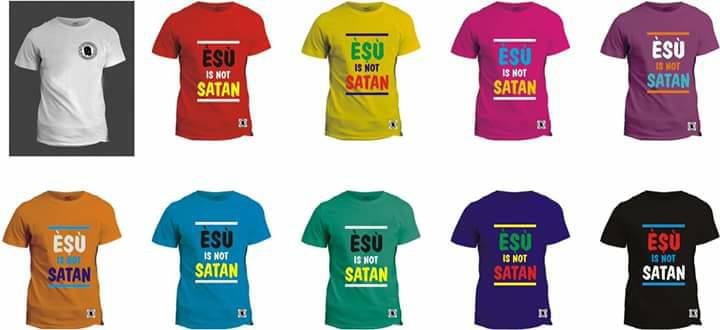 Secondly and most importantly, this campaign is not sponsored by anybody or any organization, all the people out there that are getting shirts and customizing it are doing it from their own personal savings. So for those who think some people have collected some amount of money from anyone or Organization, please note that we are doing this out of own own pocket and it's for the love of Ifa/Orisa/Irunmole that we doing it for.
And for those who wish to get their T. Shirts, if you are around Osogbo or near Osogbo Osun state, you can contact BABALAWO Ojoifa Awolowo Faniyi or BABALAWO Ifabiodun Ojefomola .
If you are in Lagos or around Lagos, contact BABALAWO Popoola Olorunimbe Adeoye to order for yours.
And if you wish to be part, just get a shirt or your choice, print Èsù is not Satan at the back just like the samples below, and believe me you are also part of the true movement.
Àború Àboyè ooo!!!
~Owó
Please, Let's Correct This Century Old WRONG!
Esu,-Onile Orita!
is A Yoruba Deity That Helps Our Communication with All the Other Deities and Olodumare- Our Creator.
Every Spirituality/Religions Have Such Mediator!
Esu's MisAppropriation was in A Century Old Translation of the English Bible To Yoruba.
Satan or Lucifer have No Equivalent in Our Culture, Thus This Unfortunate LABEL!
We As A People and Nation, have Suffered for this Unfortunate Label.
Let's Correct this Wrong in Our TIME!
"Ko Ni Baje Nigba Tiwa o"!
Ase!
*Please, "like" and Share!
Prince Adedayo Laoye
Nigerian Artist,
Chicago.