The veteran former US Marine Corps intelligence officer, UN weapons inspector, geopolitical observer and Sputnik contributor has spent over a year providing incisive commentaries about the NATO proxy war against Russia in Ukraine, challenging the Western mainstream narrative and offering his own perspective on the origins of the crisis.
Google-owned video hosting giant YouTube has deleted Scott Ritter's YouTube channel.
A banner reading "This account has been terminated due to multiple or severe violations of YouTube's policy prohibiting hate speech" greets anyone trying to navigate to Ritter's channel.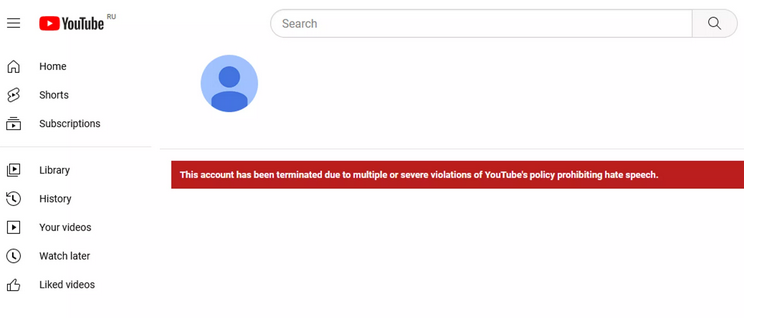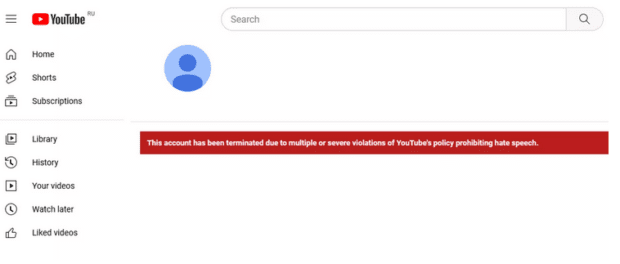 Screenshot of the page you will see if you try to navigate to Scott Ritter's YouTube channel.
The company did not provide any information about the nature of these alleged "multiple or severe violations," or how Ritter's mostly Ukrainian crisis-related commentaries and interviews constituted "hate speech."
YouTube allows for user-based reporting of any alleged "hate speech," prompting concerns from content creators over the years that the video hosting giant lets organized online activists to silence voices and views they might not like or agree with, or which challenge important state and corporate narratives.
Ritter Reacts
Ritter responded to YouTube's decision in a pair of tweets Friday, saying the move is an attempt by US-based social media platforms to silence him.
"There was never any hate speech involved in any of the episodes of 'The Scott Ritter Show', unless one views unique content from silenced voices hateful," Ritter wrote. "Knowledge is power, ignorance is weakness. YouTube, through its actions, makes America and Americans weak," he added.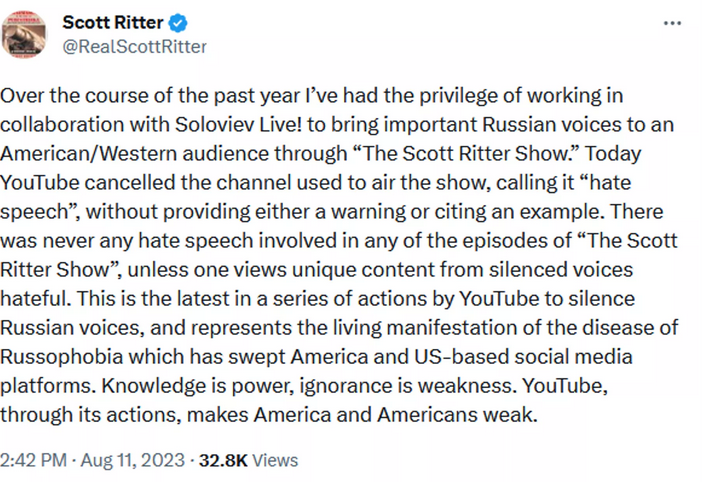 Screenshot of Scott Ritter's reaction to the deletion of his YouTube channel.
Pointing out that his channel was removed the same day that "Ask The Inspector," another of his channels, got scrubbed, Ritter emphasized that "this is a targeted effort by YouTube to remove/minimize my voice, and those of my guests and the people who took the time to ask probing questions about the pressing issues of the day."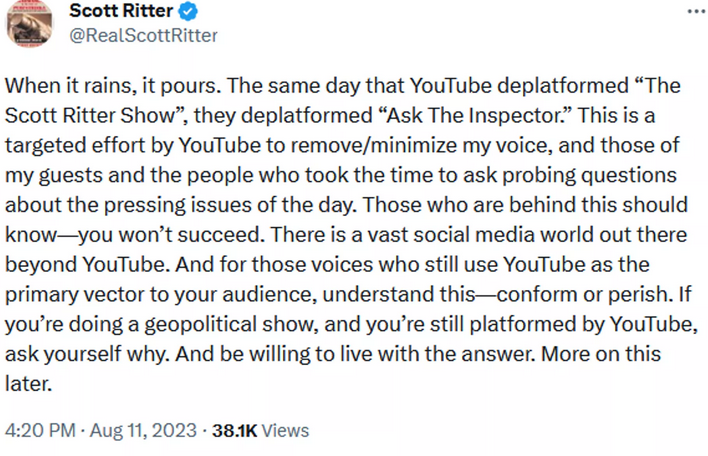 Part two of Scott Ritter's reaction to YouTube's decision to deplatform him.
"Those who are behind this should know – you won't succeed. There is a vast social media world out there beyond YouTube. And for those voices who still use YouTube as the primary vector to your audience, understand this – conform or perish. If you're doing a geopolitical show, and you're still platformed by YouTube, ask yourself why. And be willing to live with the answer," he added.
Ritter is no stranger to censorship by major online platforms.
Last year, he was suspended from Twitter after calling Joe Biden a "war criminal" and accusing him of "seeking to shift blame for the Bucha murders" on Russia. He was later reinstated, but suspended again after a "test, test, test" tweet stating that "Bucha was a war crime," and that "Ukraine did it." He has since been reinstated again. Ritter has faced a seemingly organized campaign against him on the microblogging platform, with users appealing to the site's owner to have him permanently banned.