Sebi ojo gbogbo ni tole, ojo kan pere ni tolohun. Owo awon olopaa ilu Eko ti te omo gambari onijibiti kan ti oruko re n je Mohammed Isah, to lu komisanna ipinle Ondo ati Anambra ni jibiti.
Omokunrin onijibiti naa ti iwadii fi han wi pe omo ipinle Katsina nii se, logba ile ise olopaa ipinle Eko lo to wa ni Ikeja lati lo fi ejo awon olopaa Rapid Response Squad sun wi pe won fi ipa gba owo to din die ni egberun lona igba naira lowo oun.
Okan ninu awon olopaa to ba nikale, ACP Edward Ajogun, eni to ti fi igba kan wa ni Ondo Police Command ko to di wi pe won gbe wa si ipinle Eko ninu osu kesan-an odun yii fura wi pe, oun ti salabapade odaran naa ri pelu esun kan naa to gbe wa.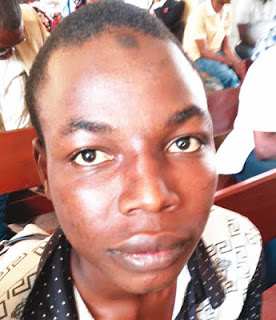 Leyinoreyin ni asiri Isah tu wi pe, oun kan naa lo puro mo awon olopaa kan ni ipinle Ondo wi pe won gba owo tabua lowo oun eleyii ti komisanna pada da die pada fun lara owo naa ti won si le awon olopaa ti isele naa sesilowo kuro lenu ise.
Leyin ti won so Isah sinu atimole, awon olopaa si tun tesiwaju lati ma se iwadii nipa re. Iwadii won tun fi ye won wi pe, o ti wu iru wa kan naa ni ipinle Anambra. Won ni nipinle Anambra, oun to se ni wi pe, o mu nomba oko awon olopaa kan lo si olu ile ise olopaa. O si wi fun won wi pe, awon olopaa ti won wa ninu oko to ni nomba naa gba owo to din die ni egberun lona oodurun naira lowo oun.
Eleyii ti komisanna si ko egberun lona aadojo (N150k) fun gege bi owo gba-ma-binu.
"Omokunrin yii kan naa lo wa fi ejo sun ni ileese olopaa ipinle Ondo wi pe awon olopaa ti n yide kiri gba egberun lona ogoje owo naira (N140k) lowo oun. Oruko to ni oun je nigba naa ni Musa Mulamba. Awon olopaa bi mefa to paro mo si ni komisanna da duro lenu ise leyin ti won san die pada fun ninu owo to ni won gba lowo oun naa," Ajogun se lalaye bee.