It is 8years today, Former President Umaru Musa Yaradua Died Mysteriously On This Day (May 5th) In 2010 May. His Mysteriously death is somehow linked to Ajaokuta Steel industry and Rosatom deal as he refused to bow down to presure. See the timeline of what went on before and after his death.
 Ajaokuta Steel industry Sabotage during OBJ's Era.
From findings as follows.
MOSCOW, Mar 8 2001 OBJ
Ending his March 6-7 official visit to Russia Wednesday Nigerian President Olusegun Obasanjo and the Russian President Vladimir Putin and Obasanjo signed a 10-page-long Declaration on Partnership and Friendly Relations, designed to encourage "all forms" of trade and investments, notably in energy sector. The visit of the leader of Africa's most populous nation was described by Russian official media as a major bridge-building event. OBJ went to sign deals with Russia to complete the deal and they were already going to complete the deal. Russia sent its expert to look into the damages and that went on for some months.
Here is a video that confirmed this from a fan of Ajaokuta steel
March – September: Russian Experts came to check the Steel industry and already secured money from Russian bank to complete the deal.
Now see what happened next to OBJ in our homeland.
Jan 2002 OBJ
Explosion: The Ikeja military cantonment was a large military cantonment and storage area in the city of Lagos, situated north of the city centre near the districts of Isolo and Onigbongo. In January 2002, the base was being used to store a large quantity of "high calibre bombs", as well as other sundry explosives.
You can confirm that via this video too.
OBJ's life was threatened to death and following Putin's letter in our homeland (A total act of war). Anyone could remember OBJ was supposed to be around Ikeja at the time the Bomb started. Coincidence ?? ? No, OBJ replied Putin's letter but did not mention anything about Ajaokuta. In other words, he played politics and corruption with Nigeria's future by handing over the contract to Solgas. One will also find out that OBJ started mass privatization after the Bomb blast where all the buyers were already known even before it started. From the Timeline above a company (Messrs Solgas Energy of USA was owned by a Friend to OBJ's son but recommended by an American expert) that knows nothing about Steel, then the sabotage went on.
A few months later Putin sent a letter to OBJ about the deal. Confirm the letter @ mark 9:00 in the video above.
President Umaru Musa Yar'Adua
President Umaru Musa Yar'Adua canceled the contract with Solgas and was going to complete it with the Original Builders, the Russians. The president of Russia came to Nigeria to sign the deal, they were going to add Rosatom Plants and complete Ajaokuta.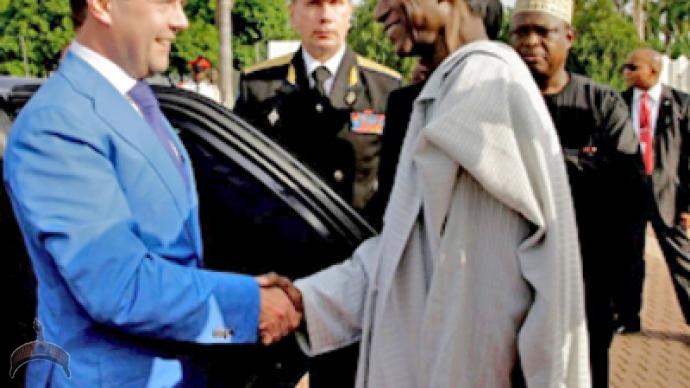 'What happened to President Umaru Musa Yar'Adua?
'Yaradua did not only cancel the deal but also signed a new deal with the Russian president Dmitry Medvedev (https://www.rt.com/news/medvedev-visit-to-nigeria-marred-by-attacks/) that visited Nigeria. He signed a Rosatom deal to build nuclear power plants that would bring Nigeria out of total darkness.
Were these late President Umaru Musa Yar'Adua's red-lines as he died mysteriously in Saudi Arabia , right ?
'The event that took place after his death ! President Goodluck Jonathan was installed and he re-concessioned the Ajaookuta back to the saboteurs according to the timeline (Solgas now in Partnership with GINL) above and video also confirmed this, not only that but also replaced the Rosatom deal with GE plants (See the link here http://thenationonlineng.net/jonathan-inaugurates-ges-1b-plant/).
'This is the same GE plants Minister of power, Fashola complained of gas sabotage to it. It's a known fact that 'Ajakokuta Steel industry can power 2 states when it's completed and working full time for 25 years. It can power Kogi and Benue state for 25 years non stop.
President Umaru Musa Yar'Adua died mysteriously in Saudi Arabia then the sabotage continued under President Goodluck Jonathan.
Jonathan Remembers Yaradua says 'Nigeria Was Blessed To Have your Leadership'

So his Vice then, Goodluck Jonathan choose to remember him and his works when he was still alive in short piece of write up.
Jonathan stated that even do Yaradua regime didn't last long, Nigeria was blessed to have his leadership.
Read Below..
Today, I remember the late President Umaru Musa Yar'adua, a great democrat and servant leader, whose leadership Nigeria was blessed to have if even for a brief period. Your legacy of fostering peace and progress in Nigeria and beyond is worthy of emulation.
"Rest In Power" says  Samklef To Late President Yar'Adua
Samklef, a multi-talented music artist, producer, DJ and video director who hails from Imo State paid respect to Late President Yar'Adua who died 8 years Ago.
The Artist Quoted a Tweet about the Remembrance of the Late President with reply  "Rest In Power".
Samklef is among many Nigerians who believes that the Late President is so far the Best President Nigeria has ever had since Independence.
In the presidential election, held on 21 April 2007, Yar'Adua won with 70% of the vote (24.6 million votes) according to official results released on 23 April. The election was highly controversial. Strongly criticized by observers, as well as the two primary opposition candidates, Muhammadu Buhari of the All Nigeria Peoples Party (ANPP) and Atiku Abubakar of the Action Congress (AC), its results were largely rejected as having been rigged in Yar'Adua's favour.
Buhari and Abubakar filed petitions to have the results of the 2007 presidential election invalidated due to alleged fraud, but on 26 February 2008 a court rejected the petitions.