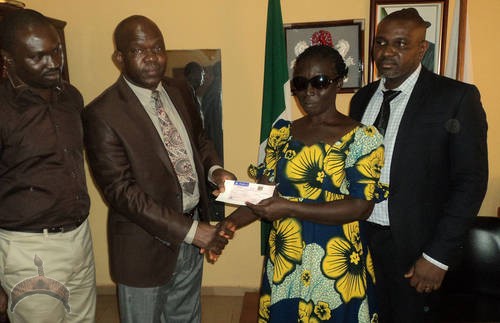 Relief got in for a blind teacher, Mary Ihekanacho on Wednesday Oct. 22, 2014 as the EFCC, shown her with a draft of N550, 000 that the anti- graft firm recovered from the group of fraudsters that swindled her of N 830,000 in work scam.
The syndicate fooled the lady by promissinf to aid her son's employment with the Oil majors.
Mr. David Iloyanomo who revealed the presentation fon behalf of the Executive Chairman of EFCC, Mr. Ibrahim Lamorde, stated that
"the EFCC stands for justice for all and called on the general public to ensure that they assist the Commission in carrying out its duties by coming forward to give evidence in court when it is required".
He also praised the passion with which officers of the Commission handled the situation which managed to get justice for Mrs. Ihekanacho.
An overwhelmed Mrs. Ihekanacho commended the EFCC for arriving at her rescue.
"I had lost hope. I prayed and asked God to take control and was surprised when Richard called me and told me that the young man has been arrested". She called on Nigerians to support the EFCC in its effort to rid the nation of fraudulent activities. "If someone can scam a blind woman, what else won't that person do?" she asked.
It will be recalled that Ihekanacho, sometime in July 2012, fell to the hands of some fraudsters led by Gift Onyegam who defrauded her of the amount of eight hundred and thirty thousand naira (N830, 000.00).
Following her petition, Onyegam was arrested and arraigned on a 4-count charge of obtaining money by false pretence before Justice M. L. Shuaibu of the Federal High Court, Enugu.  On February 24, 2014, Justice Shuiabu convicted and sentenced Onyegam to 10 years imprisonment without option of fine. The court also ordered the convict to pay for the victim, the amount of N711, 000 (seven hundred and eleven thousand naira) in restitution.