A trader at Alaba International Market Ojo, Lawrence Ikonne has been arrested for allegedly killing a consumer, Isa Yaya over the price tag on his secondhand air conditioner.

In accordance with reports, the incident happened at Ikonne's house at Afromedia Estate, Okokomaiko, Lagos where Ikonne had invited Yaya. When they got to the house, both of them went into a room to bring out the air conditioning equipment, and they started haggling over the price. Yaya allegedly insisted on purchasing the air conditioning equipment below N5, 000- an amount which didn't go well with Ikonne. It resulted into a battle and Ikonne allegedly hit Yaya with a plank leading to his death.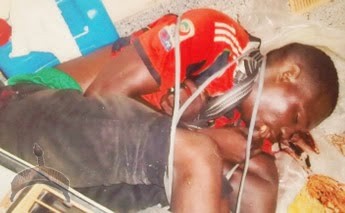 During interrogation, the suspect said:
"I had not met the young man before. I met him that morning at the Alaba market, and asked him to buy one of my appliances: an air conditioner. He actually looked like a cart pusher. When we got home, we both went in to remove the product, and we brought it outside for negotiation. As we continued, he said he would pay less than N5, 000. I replied that he should assist me to return it to where we took it from, but he refused. In the process, we started fighting. He even asked me to pay him for helping me bring it out. I was mad, and I hit his belly with a plank. When I realised he had fainted, I tied him with a rope and dragged him into a corner. I also fled the house."
It was one of Ikonne's co-tenants who noticed Yaya's tied up corpse, raised an alarm, and reported the case to the Okokomaiko police station.
Source: Punch