The constant shelling by Ukrainian forces of the crash site of the fatal Malaysian MH17 Boeing plane in eastern Ukraine is hampering investigations into the crash, Russian President Vladimir Putin said Monday.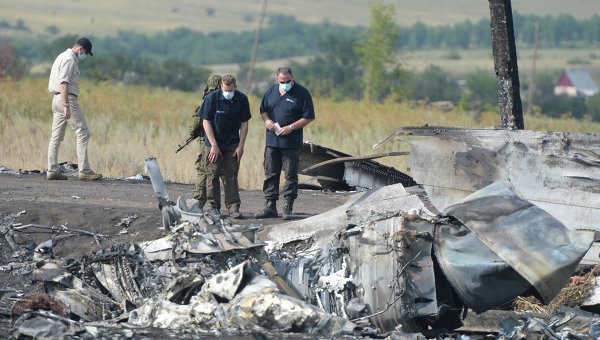 "Because it's not [pro-independent supporters] but the opposite side that's constantly shelling this territory and that is not allowing a full volume of work at the crash site," Putin said during a meeting with Malaysian Prime Minister Najib Razak during the Asia-Pacific Economic Cooperation summit in China.

"But in any case we welcome the fact that Malaysian experts have finally been allowed [into the crash site] for full participation in the investigation, and not just working with a so-called technical commission. I'm sure that our specialists can present their needed contribution into a full-fledged investigation into this tragedy," Putin added.
Earlier in November, RIA Novosti reported that a small grouping of Dutch experts began collecting wreckage from the site of the Malaysia Airlines plane crash in eastern Ukraine's Donetsk region. The experts were gathering small fragments of the plane and placing them in special containers.
On July 17, a Malaysia Airlines flight from Amsterdam to Kuala Lumpur crashed in Ukraine's eastern region of Donetsk, killing all 298 people on board.
The crash happened amid a continuous military operation, launched by Kiev authorities against independence supporters in eastern Ukraine.
Kiev accused pro-independence forces of shooting the plane down, but hasn't provided any evidence because of this assertion. The area militia leaders have stated that they do not have weapons effective at shooting down an airplane flying at 32,000 feet.
On September 9, the Dutch Safety Board issued a preliminary report on the MH17 crash, saying that the Malaysia Airlines flight split up in the air almost certainly caused by "structural damage caused by a large number of high-energy objects," that penetrated the plane from the outside.