Speaker of the House of Reps Aminu Tambuwal has at last gotten access into the House Chamber. There was bedlam outside the Assembly perplexing today as police attempted to keep him and different officials from entering the complex.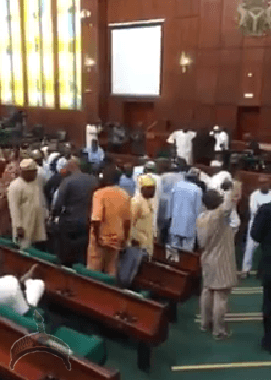 Some needed to scale the entryways after all entrance points were closed leaving one and only open where numerous were thoroughly frisked and some turned back. There are assertions that the greater part of the officials turned back were from the APC. The police eventually terminated teargas and a few officials allegedly swooned.
Tambuwal, who had been kept from driving through the entryway in the wake of passing through the first door of the Assembly gate was carried into the Chamber by supporters who overwhelmed security agents at the second and third door. The House has now gone into official session.
See photographs and record of what happened by Tambuwal's media guide bellow.