The drums, in various forms, will be echoing their sounds through the air again. Endless troops of singers and dancers are following the procession through the designated ancient routes. Masquerades of all shades are putting up thrilling performances. Men, women, old and young are very happy. At this time in Ondo, no one would tell anyone that Ogun Festival is at it again.

It's been very long I witnessed the festival and I wonder if the glitz and glamour that used to accompany it are still there though friends tell me that quite a lot has changed and things are no longer what they used to be.

All I can do now is cast my mind back to the colourful and electrifying old days of Ogun Festival when I followed big brothers and friends to town to enjoy the various cultural events that glamorized the festival.

I remember, while growing up in the narrow streets of rustic Odojomu, how we ran excitedly after masquerades until somebody would drag us back home. I remember the ceaseless noise throughout the night of "aisun Ogun" that got mothers looking around for their wandering children.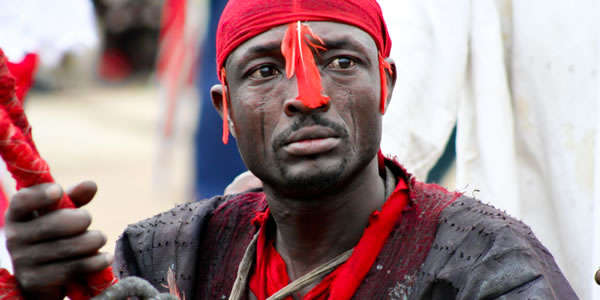 I remember each time the head of a dog was severed from its body with just one stroke of the machete, what followed was the shout of "Ògún ye è!", which was the chant of acceptance of the sacrifice by God. I remember how the sound of the pestle hit the mortar while "iyan Ogun" was being pounded in every home.
I remember how we relished the whitish morsel of "iyán Ogun" with "ọbẹ̀ ilá" and how we ate delicious and sumptuous "àsun" made from dog meat.

I remember the "lághá-logho" boys who went from street to street performing all sorts, chanting "oríkì Ogun" on the backdrop of their improvised rattlers made from old milk cans, with which they produced the unique jangling sound:
Wo kíli, wo wo wo kílí wo!
Wo kíli, wo wo wo kílí wo!
Wo kíli, wo wo wo kílí wo!

I remembered how they danced and collected money from generous givers. I cannot forget "ẹ̀gin" Kọ́lé, a great "upè" blower who visited our home with a band of boys every year to entertain my father.

I remember the enormous crowd on "àìsùn Ogun" when various dance bands would shout: "wa ríran wò bó d'ọ̀la" which means you will have a lot to see tomorrow. Who would forget the numerous troublemakers who always fought one another and got arrested by the police.

I remember the leading Ogun Festival characters and powerful medicine men like the fearsome Bami Kehinde, the aggressive Nígbò-Nígbẹ̀n and Abayomi is Danger and Dangerous; I remember the terrifying Ẹ̀gbẹ̀di who was said to have brought Ogun Festival "home"! I remember Baba John Street and Ọmọ Ẹkùn Káàbọ̀.

I remember how they all were bedecked in terrifying black regalia embroidered with numerous cowries; periwinkle and snail shells; animal horns and skins; and other stuff that evoke fear and remind the audience that these powerful. I remember the stories we were told that some of them could vanish or turn into stone!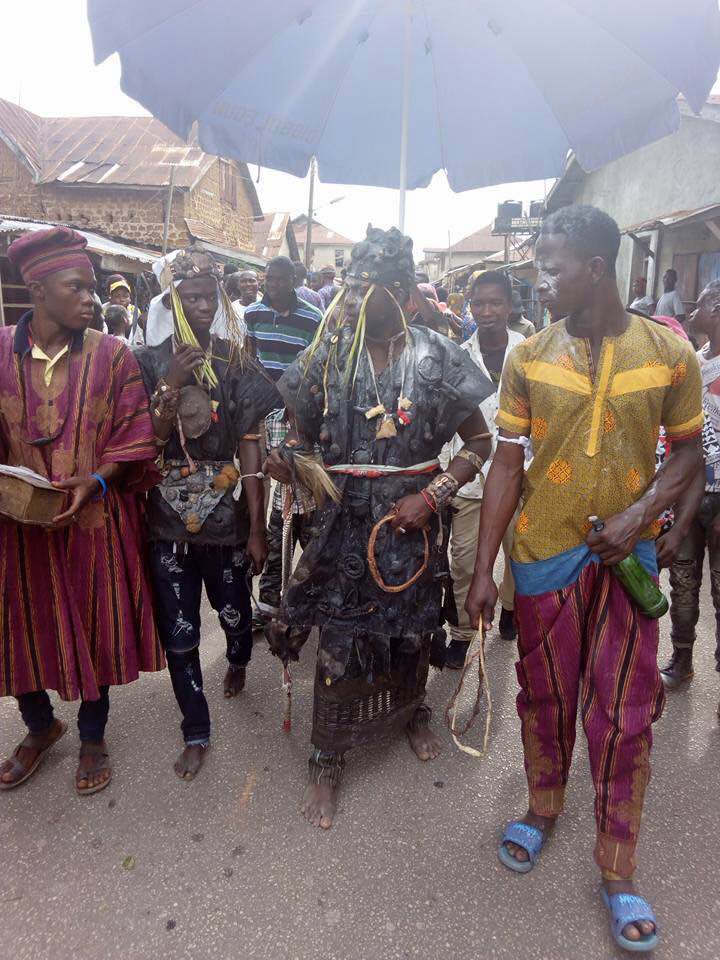 I remember the artistic characters: The musical Òjó Ojúróngbé Ọfẹ; Jim Poly Art King; Jawando Art, and their colourful artworks on display while the procession was on. I remember the colourful and regal Àmọ̀mọ̀ l'Ẹ̀pẹ̀ who was the biggest masquerade in Ondo.

I remember the royal procession of the high chiefs Lísà, Ọdunwò, Àdajà and Sàsẹ́rẹ́, in various colourful "asọ òkè", royal beads and "ìrùkẹ̀rẹ̀" as they passed through Ẹnu Ọwá, Odòtù, Odòjọmu and the other routes.
I remember, when high chief Ọjọmu, the chief custodian of Ogun Festival passed by, the humming and deep sound of the sacred and massive Ùgbajì royal drums and "agogo" rent the air:

Jẹ̀gẹ̀ ń́ jẹgẹ n jẹ̀gẹ̀!
Jẹ̀gẹ̀ ń́ jẹgẹ n jẹ̀gẹ̀!
̀
I remember the immaculate Bini-styled white robes of Ọjọmu as he offered prayers at "Ògun lẹ́i" which is the largest Ogun shrine.
I remember the various groups of dancers, artisans and professionals in their various "asọ ẹgbẹ" and how "mariwo" was used to adorn the dresses and bodies of many people and vehicles.

I remember how primary and secondary schools would be empty because almost all the students would participate or watch the festival rather than go to school. I remember how one of my friends who saw me at Odòjọmu splashed me with white power and "blue".

I also remember how, Henry, one of my classmates who always appeared to know Ogun Festival more than anyone else would tell us about the big fight at Ilẹ̀ Olújìí between Lọ́gọ̀ and Ọgbọ́njagbára as if he was there.

Ogun Festival was the greatest event in Ondo and it had many indigenes and foreigners coming from overseas to participate in it bringing back to mind the age long Yoruba saying: "Kò s'óhun tó dùn bí Ògún àjọbọ" . . . Nothing is as exciting as the collective celebration of Ogun Festival.

I remember and I will always remember those colourful old days when our traditions meant a lot to us before we were brainwashed to disregard the beautiful ways of our ancestors, turn our backs to our home and become strangers even to the very culture that nurtured us.

A lot needs to be done in order to preserve the beautiful aspects of our land and celebrate the dances, arts, music, folklore, costume and other tangible elements that usually come on display during the festival.

It is the season of Ogun Festival again in Ondo and elsewhere in Yorubaland. May Olodumare grant us long life, the wisdom to respect our culture and the courage to protect it.
Happy Ogun Festival!
Wo kílí, wo wo wo kílí wo!
Àbáyọ̀mí Ògúnyè
1st September, 2020