The Williams Alligator Indicator was introduced in 1995 by the legendary trader Bill Williams. His trend-following Alligator indicator follows the premise that financial markets and individual securities trend just 15% to 30% of that time period while grinding through sideways ranges from 70% to 85% of the time.
The indicator includes three lines (smoothed moving averages) that represent the jaw, tooth and the lips of the alligator, and was created to greatly help the trader confirm the current presence of a development and its direction. Because this moving averages are plotted into the near future, this indicator increases results with an momentum indicator like CCI. The moving averages are set at five, eight and 13 periods, which are Fibonacci numbers.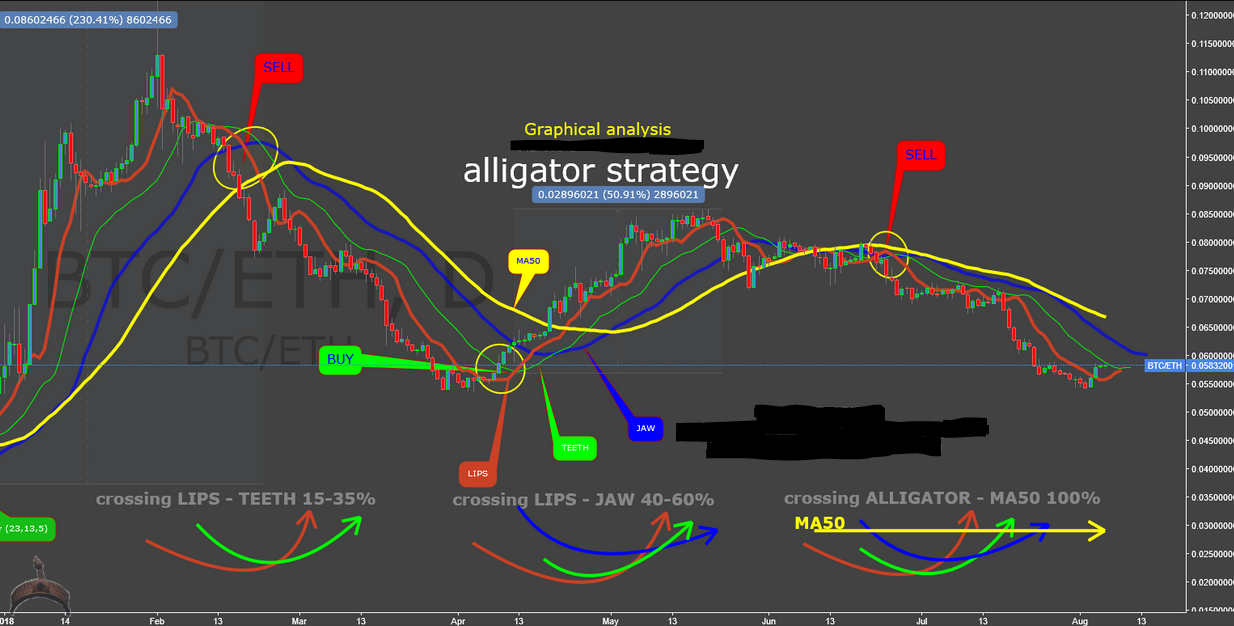 1) The Jaw (Blue line), is a 13-period Smoothed Moving Average, moved into the future by 8 bars;
2) The Teeth (Red line), is a 8-period Smoothed Moving Average, moved by 5 bars into the future;
3) The Lips, (Green line) is a 5-period Smoothed Moving Average, moved by 3 bars into the future.
How to trade with the Williams Alligator Indicator?
The indicator applies convergence-divergence relationships to construct strong trading signals. The Jaw makes the slowest turns and the Lips makes the fastest turns.
Once we have the lips crossing downward through another lines, we claim that the alligator will sleep and signals a SHORT (sale opportunity), while crossing upward we say the alligator is awekening and it signals a LONG (buying opportunity).
Being briefly, once the lines are entwined the Alligator is sleeping and once the lips begin to cross the teeths (in any direction) it is trying to open his mouth (awake).
The Alligator indicator helps the trader stay static in the career for a lengthier period and is best suited the longer period
of sleep, so more the Gator sleeps, more hungry he will undoubtedly be when he awakes.
Here at CryptoFX – Make more ₦₦$, we use the following strategy in the 4 hour chart:
Fill your orders 15-35% once the lips cross the teeth, 40-60% once the lips cross the jaw and the others of position once the alligator cross the MA50 (50 period moving average).