Homosexuality will not be tolerated in Nigeria, as it is in the West, a Delta State Police spokesperson has said.
Nigerian police have arrested more than 100 alleged homosexuals who attended a same-sex wedding event in the country's Delta state, officials announced on Tuesday.
"Delta State Command have arrested over hundred gay suspects in a hotel carrying out a gay wedding ceremony," the law enforcement agency revealed in a statement posted on X (formerly Twitter).
Bright Edafe, a spokesperson for the Delta State Police Command, stated that they received information about the wedding ceremony of two men at a hotel in the southern town of Ekpan.
The police raided the hotel on Monday, Edafe explained in a Facebook live on Tuesday, parading 67 of the suspects detained at the Asaba police headquarters.
"The amazing part of it was that we saw two suspects, and there is a video recording where they were performing their wedding ceremony. We're in Africa and we're in Nigeria. We cannot copy the Western world," he said.
He also warned that authorities would not tolerate LGBTQ people openly displaying their sexual orientation in the West African country, where homosexuals are frequently arrested.
"This is not something that will be allowed in Nigeria," Edafe said, adding that the suspects will be charged in court at the conclusion of the investigation.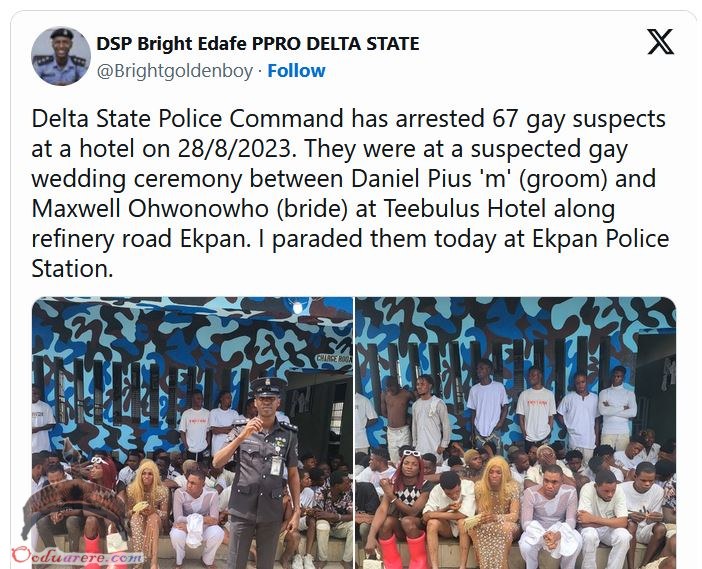 One of the detained has denied being gay, telling reporters that he was apprehended by police on his way to a fashion show.
"I dressed like a female because I'm a model and want to perform on stage. I don't know if dressing like this is an offense. I'm not gay," he insisted.
According to him, the event described by the police as a gay wedding "was an all-white party."
Nigeria's Same-Sex Marriage Prohibition Act, 2013, imposes 14 years of imprisonment on persons found guilty. Individuals who administer, witness, or assist in the solemnization of a same-sex marriage in Africa's most populous country face a ten-year prison sentence.
In December, the Islamic police arrested 19 people accused of organizing a gay wedding in the northern city of Kano.