Although, we all known that Ile-Ife is the cradle of all Yoruba race, and it is a sacred town that all the deities descended to, so any orisa can be celebrated there, but when they lived many years in otu Ifè, some deities migrated to another town and some remained, so Òrúnmìlà migrated to Adó-Ekiti and he was honoured and accepted there like they did for Òsun in Osogbo.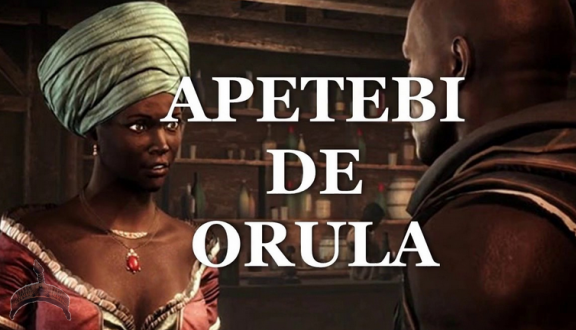 There is one corpus of ifá that said when Òrúnmìlà reached Adó, he met them in agony and he asked them that which orisa are they worshipping here? And they replied him there is none, Òrúnmìlà then instructed them to go and pick some hard stone(ako okuta) for him, and they picked it for him, Òrúnmìlà told them to close their eyes and they did, Òrúnmìlà threw the stones to the right and left hand side and he told them to open their eyes, when they open their eyes, Òrúnmìlà instructed them again to go and be picking the hard stones that he spread on the ground, when they were picking it, it has turn to sacred nuts, Òrúnmìlà told them to put it inside opon(wodden pot) and he told them that that is the orisa they must be worshipping.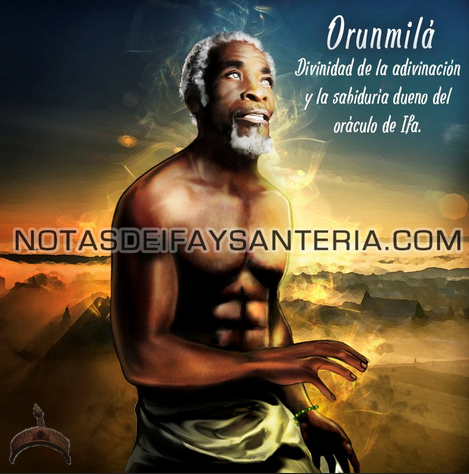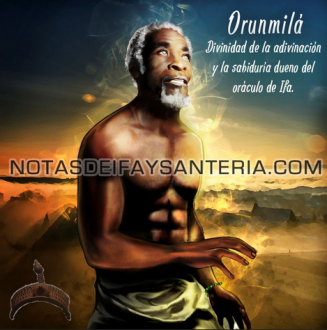 So, let us hear what the holy corpus of ogbeweyinwo said about the Adó-Ekiti as a paternal and maternal home of Òrúnmìlà.
Arínkindá ni o ki njogun o jale Adó
Pàpáyìbà omo oba oyo
Igba kinni oba oyo gbogun lo sile Adó sugbon ìróké ni arínkindá fi ro ogun naa danu, igba keji oba oyo tun gbogun lo sile Adó, ìróké naa ni arínkindá tun fi ro ogun danu, nigbati to di igba keta bi oba oyo se pe pàpáyìbà omo re obinrin niyen wipe ki o wa lo fi ète mu arínkindá tiko jeki oun raye fi ogun ko ile Adó wa, won sofun pàpáyìbà wipe yio ri baba naa labe igi nibi to ti ndifa, won wa gbe obi leri pàpáyìbà ki o maa kiri obi ki arínkindá le ro wípé awon ti won ntaja obi kiri ni ki o ma baa funra wípé oun lo fe fi ogbon ati ète mu, bi pàpáyìbà se wo ile Adó seni o bere sini kiri obi to nso wipe, omo Adó e ma wa robi o(2×), nigba to de odo arínkindá o ki baba wipe aboru aboye baba naa si dalohun wipe aboye bosise, pàpáyìbà kiri obi lo, nigbati o di owo irole o pada sidi igi to tiri arínkindá yen, o ki won daadaa o wa mu obi meji fun arínkindá wipe ki o fun oke iponri re, arinkinda gba o si dupe lowo pàpáyìbà, pàpáyìbà joko sibe titi ti ile fi su, bi arínkindá se npalemo lati wole, seni pàpáyìbà ba nwole to wa sofun arínkindá pe ko jare ko jeki oun sun ile oun moju, arínkindá gbera o lo sofun awon apintanbi re wipe bayibayi ma ni omo olobi se so, awon iyawo arinkinda ni ko siyonu, won nipe aye wa fun lati sun, nigbati won njehun lale, won gbe ounje fun pàpáyìbà sugbon oni oun kole da jehun oni odo arínkindá ni oun yio ti jehun, arínkindá tun sofun awon apintanbi re, awon apintanbi ni ko je tuntun labe òrun won ni ki baba ba jehun papo, baba naa si ba jehun nigbati won jehun tan won fe lo sun, won fun pàpáyìbà ni yara kan ti yio sun si sugbon ko gba oni oun ki ndasun, oni odo arinkinda ni oun yio sun si, arinkinda tun sofun awon apintanbi re, awon apintanbi tun sope ko sese nsele bee won ni ko jeki pàpáyìbà sun odo oun, bi pàpáyìbà se sun ti arinkinda niyen, nigbati o maa di loru pàpáyìbà lo ète fun arinkinda won feka leturupon aye ile olufe gun, pàpáyìbà feraku o bimo, ko tun pe won tun bi omo miran, omo wa da meji, nigbati to wa di ojo kan pàpáyìbà wa ni oun nlo sile lati lo yoju si awon òbí oun, pàpáyìbà mu ìróké, opon ifá ati owo kan ikin arinkinda dani, nigbati arinkinda nsin lo bi pàpáyìbà se bere sini nbu arinkinda niyen wípé oun ko mo wipe eniyan buruku ni arinkinda, ti oun bimo meji fun ti kosi mo eye to su oun, ti ko ti e bere ibiti òbí oun ngbe tambelete wipe o maa lo kiwon, arinkinda wa nbe wípé ko mase binu, o ni ka gba wipe pàpáyìbà ti sofun oun tele ni oun ibati mura lati tele lo, oni sugbon ìróké oun wa nile pàpáyìbà ni oun ti mu ìróké arinkinda ka dani, arinkinda ni ko si opon ifá, pàpáyìbà ni oun ti ba gbe eyokan dani, arinkinda ni oke iponri oun wa nile, pàpáyìbà ni oun ti ba mu owo kan dani nibe, arinkinda ko mo nkan to le so mo, o ba gba lati ba pàpáyìbà lo si ibadan, nigbati won dele, seni o se odo oba ibadan, bi oba se ri arinkinda inu re ti dun bose ki niyen o wa sofun arinkinda wípé oju arinkinda jo oju eniyan mímò, oni ki o kiye soun, arinkinda ko oke iponri re o gbefa janle eegba, arinkinda wa sofun oba wipe o ti gbe igbese kan lakoko ati igba keji sugbon pabo lo jasi, o wa ni sugbon igbese eleketa yi yio seese fun, oni ki oba oyo rubo.
Oba kabomora o rubo, bi oba se sigun lo sile Adó niyen ti won ko gbogbo won patapata wa si ibadan, oba wa ti gbogbo won mo inu túbú, oba wa ranse pe arinkinda, nigbati arinkinda de odo oba, oba wa ki arinkinda oni nkan ti arinkinda so wípé yio seese nigba keta yen o loti seese o, oni ki arinkinda tele oun arinkinda si tele, nigbati won maa de túbú o silekun apa otun gbogbo ara ile Adó lo kun inu ibe, oba tun silekun apa òsì gbogbo ara ile Adó lo tun kun inu ibe, inu bi Òrúnmìlà o mu eyele o se lapa otun o se lapa osi o ju soju Eledumare, beeni esu odara ta puru o fese kan diju orun, osan doru, fikanfikan mu nile aye dugbedugbe gbode òrun kankankan, olomo ni koun maa gbomo o ngbe aja, won bere sini nparawon, oba wa bere sini be arinkinda wípé ki o mabinu ko ma jeki ilu oun ra, oni ki arinkinda nawo si eni tire ninu awon ti won wa ninu túbú oni oun yio yonda re fun, arinkinda wo apa otun oni ero apa otun oni ara "ile baba" oun niwon, oni ero apa osi oni ara "ile iya" oun, oba wani o dara oni oun yonda gbogbo won fun arinkinda ki o maa ko won lo pada sile Adó, arinkinda ni ki won jade ninu túbú, baba gbodo wale agbede orun ro, oke iponri ni ki baba ni obi meji ati ako seye funfun ki won fi bo ori won ki won si tu iye seye funfun naa sori ki won to maa sile Adó pada, won kabomora mora won rubo won si tu iye seye naa sori bi won se nlo sile Adó pada niyen, oba ti sofun awon omo ogun re wípé ki won lo duro soju ona dewon pe ibiti won bati bawon ni ki won pa gbogbo won si, awon omo ogun naa ti bo sinu igbo, bi ara ile Adó se nbo won nkorin bo ni arinkinda lo siwaju, ti won sope; òrò maa nlo o, òrò nlo sòsò, òrò nlo òrò nlo sòsò, ti won si nlu "edin" kikan kikan okunkun si tisu, nigbati o ku die ki won de ibiti awon omo ogun wa, ohun "edin" yen ti kan awon omo ogun lara, bi won se dide ki won garun wo nkan to nbo, iye funfun ori won yen ni awon omo ogun nwo ti gbogbo re fún-ún lo sán-àn, eru ba awon omo ogun won ni ha!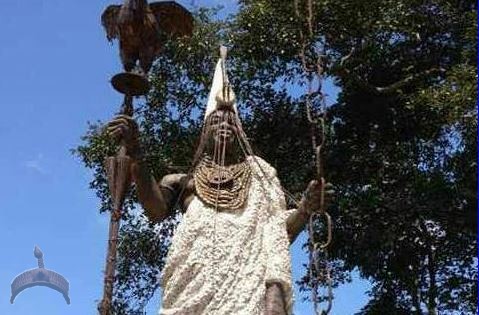 Won ni awon alujonu lo nbo yi won ni ibi ni won maa pawon si, bi kaluku se belugbe niyen ti won salo, bi Òrúnmìlà se raye ko awon ara ile Adó pada sado niyen to si ngbe pelu won nibe lakaimoye odun ki baba to pada sode òrun.

Ìdí niyi ti ibasepo omo Adó ati omo ibadan nipa fife ara won se loko laya ko se nyori si rere.

Eniti odù ifá yi ba sibi ko gbudo fe omo ibadan se aya tabi oko, ko gbudo ni nkankan nse pelu ibadan, koda ko gbudo gbe nibe aaye afi ti won ba ba eewo re je fun nitori ki o ma baa je wipe ibe ni won ti maa gba emin re, atiwipe gbogbo oore to ba nse nibe ibi ni won yio maa fi san.
Eyin eniyan mi, mose ni ìwúre loni wípé ayé koni muwa o, Eledumare yio bawa segun awon eléte eniyan, ako ni rogun ewon loni, ao raje jehun o aaase.
ÀBORÚ ÀBOYÈ OOO.