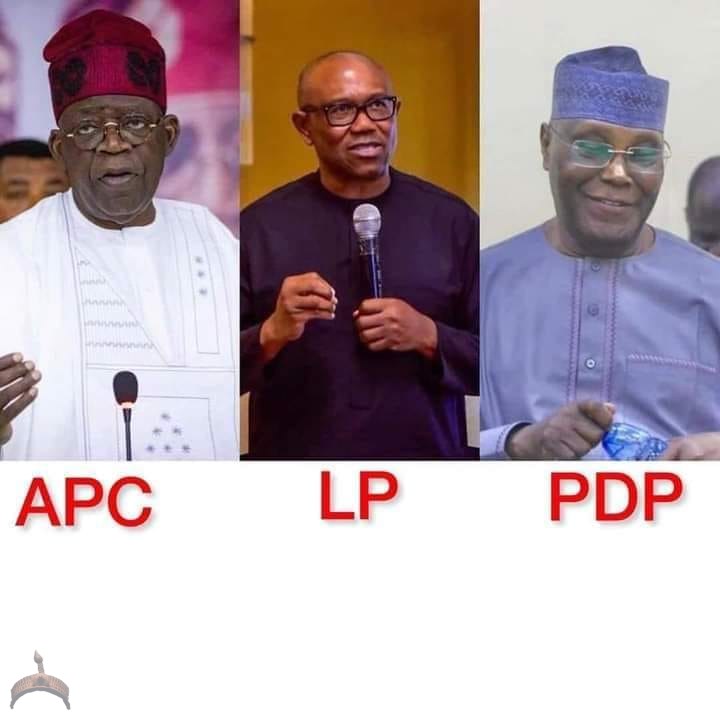 PDP:
PDP and Atiku have lost it a long time ago. Atiku is sold-out and would sell out Nigeria like his OBJ era. He was the Puppet of the U.S in charge of privatization. We must know the cold war going on now is not just against Russia but against any country that has refused privatization. Atiku also lost it when he and Saraki were running up and down selling out the country to the U.S in the last election. I don't know when someone wanted for crime becomes unwanted for 48 hours in the U.S.
LP: His last interview did more bad than good for him. All I could hear from his press is how he would go to Egypt and ask them how they double their megawatts(SIgn of a sold-out). As if he does not live in Nigeria and understand what is going on. This is how you will know a sold-out puppet. Another thing is I keep hearing IMF and DEBT from him way too much. No plan, nothing. The sound of IMF in the mouth of someone that is contesting is RedZone. (A typical example in the past was IBB). More debt slavery.
APC: Well, a more qualified candidate for the post. Not the "Putin" Nigeria needs to be honest but could still be manageable in the absence of a real Putin(Someone like Babatunde Raji Fashola could be the Putin Nigeria Needs but he's not contesting). As long as any one of these politicians refuse to solve the structural deformation of the country one of such is completely reviving the Health industry in a way no Politician will ever be allowed to travel abroad for medical check-up.
I can bet, that not much will change. After checking all the contradictions in the entity called Nigeria. The only way they can kill the leaders who are ready to truly revive the Ajaokuta steel industry and complete Rosatom(Nuclear power plants for Power) is via traveling abroad for medical check-ups. Until this health industry issue is solved.
I see Nigeria on a steady decline. Whoever becomes the president out of the three, will never stop the depreciation of Naira. Depreciation of the Naira can only stop if the Ajaokuta steel industry is revived completely and Rosatom power plants to power the industry are continued or also completed. Any leader who refuses to play balls or sabotage this deal will be killed by the west. To avoid not being killed, the health sector must be revolutionized.
Again, the only manageable candidate is Tinubu. Rest, I see a complete sold-out.