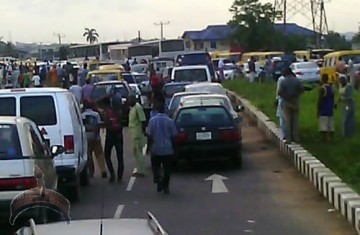 A long stretch of traffic has built up from the Mile 12 bridge all the way to Ikorodu Bus stop as soldiers have barricaded the ever-busy road based on what they called an "orders from above."
The Inspector General of Police, Suleiman Abba, had announced that there would be no restriction of movement today(Sunday) over the rescheduled elections.
Our correspondent learnt that most of those caught in the traffic are Christians, attempting to go to church to observe the Palm Sunday.
It was learnt that following the hiccups experienced in the voting on Saturday, the Independent National Electoral Commission postponed elections in five local government areas in Lagos till today.
These are Alimosho, Oshodi/Isolo, Eti Osa, Kosofe and Somolu LGAs.
However, a resident of Ikorodu, Abiodun Samuel, wondered why the residents of Ikorodu would be barred from moving when IKorodu local government was not among the areas that INEC had listed.
He said, "Ikorodu's election yesterday was conclusive and every polling unit has been counted so I don't know why soldiers are preventing us from moving. I have been in the traffic all day and the sad part is that this road (Mile 12-Ikorodu Road) is the only road connecting Ikorodu to the major parts of Lagos.
"The unfortunate thing is that most of us cannot turn back because we have been blocked by vehicles on all sides of the road."
Meanwhile, investigations by our correspondent showed that the voter turnout today may be less than yesterday due to the Palm Sunday, which will witness long hours of service and street processions.
Our correspondent, who visited various areas in Kosofe LGA, observed that there was no presence of INEC as of 9.34am.
The police have, however, warned people, who have no business at polling units, to stay away.