Ìbà! Babaláwo Remigio Herrera Adeshina.Ọmọ Yorùbá tí ó tan ìmólè ìṣẹ̀ṣe ní orílè-èdè Cuba.
He was a renowned Babaláwo in Cuba. Born in Ijęsha Yoruba land, he was sold into slavery in the 1830s. As an Ifa priest, he trained many on Yoruba Spirituality. In 1850 he became a freeman and settled in Regla where he was well respected.
Legend Remigio Herrera Adeshina has it that he swallowed his sacred Ikin Ifa (palm kernel) used for divination to take them with him across the ocean. An intelligent and gifted man, he set up a famous religious institution, the Cabildo of the Virgin of Regla (the Cabildo Yemaya) around 1860, which became a powerful center of Ifa and Orisha worship in Cuba to this day.
It was reported that he returned to Yoruba land, the land of his birth, to acquire the sacred materials needed to initiate Babalawos.
He was loved by the people and revered in Regla, when people met him on the street, they will salute him by genuflecting before him and kissing his hand.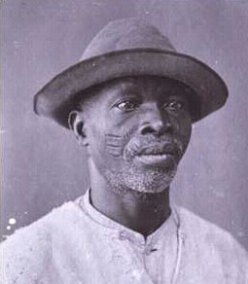 One day in the fishing town of Regla, Havana, where he established a large family, a woman came to him with tears of despair: "My husband has been on a boat and I don't know if he will ever come back." He had been away at sea for many days without any knowledge of his whereabouts. Remigio was moved to pity by the lady, he went to consult his Ifa oracle, made a series of prayers and signs in the dust of Orunmila (iyerosun), then took the woman and went to the docks.
On the site, Babaláwo Adeshina made a series of liturgical prayers and blew dust (iyerosun) into the ocean. In the next ship sailing in the great port of Rule was her husband. He had returned, and everyone rejoiced and celebrated the Ifa priest.
IFA Ęlęripin, IFA Asoro d'ayo
IFA a gbe wa o
(Asę )