Àbórú Àbóyé Àbósísé.
Babalawo Ifakorede Ogunsanmi has come again.
Please be calm and read the story.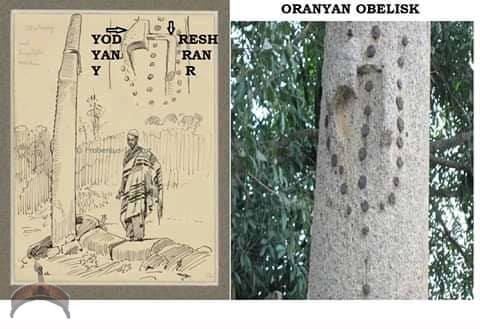 The Tradition Of The Past Still Remain The Present Always
Íré Gbógbó.
The little right up about Oranmiyan
Oranmiyan Omoluabi Odede, Great Prince of Ife, King of the Oodua (Yoruba), also known as Ọranyan, was a Oodua (Yoruba) king from the kingdom of Ile-Ife.
Although he was the youngest, he became the prime heir of Oduduwa upon his return to claim his grandfather's throne.

According to Oodua (Yoruba) history, he founded Oyo as its first Alaafin at around the year 1300 after he had left Benin where he had been crowned the first Oba of Benin.

Following the Oba Oranyan's death, his family is fabled to have erected the commemorative stele known as the Staff of Oranmiyan (Opa Oranmiyan) in the Oodua (Yoruba) language.
At the place where their grandfather died. This obelisk Is 5.5m tall and about 1.2m in circumference at its base.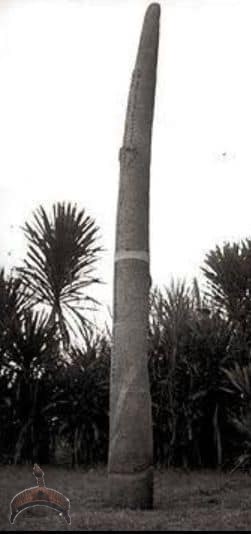 During a storm in 1884, about 1.2m was broken off from its top and it has fallen twice and been re-erected on each occasion.
It currently stands in a grove in Mopa, Ile-Ife. Radiocarbon tests have shown that this royal marker was erected centuries before the start of the Oduduwa dynasty, during what is known as the classical Ife period.
Oduduwa has many children, Oduduwa had seven most prominent sons who, in turn, became the king.

1.Olowu of Owu.
2.Alaafin of Oyo.
3.Orangun of Ila.
4.Oba of Benin.
5.Alaketu of Ketu.
6.Olopopo of Popo.
7.Onisabe of Sabe.
Oranmiyan was said to be a giant who was also a warrior. He rescued the people of Ile-Ife every time there is an inter-tribal war.
He left them and told them he will always be with them whenever they call. After he left, Oranmiyan became a deity to the Oodua (Yoruba) people and the of Ile-Ife.

Are any Nigerian ethnic group Nigerian? Why does everyone want to claim they came from the Jews or Arabs?.
Why can't we proud of being Oodua.
I don't understand what is wrong with our people even in the Bible you will understand that the Jews came to be after so many years of human existence that mean Oodua (Yoruba) people in Nigeria have been existing before the Jews came to be.
According to history, King Solomon married an Oodua (Yoruba), Queen.
I'm proud of being Ooduan(Oduduwa) with supernatural powers.
Babalawo Ifakorede Ogunsanmi great you all.
Íré Gbógbó.