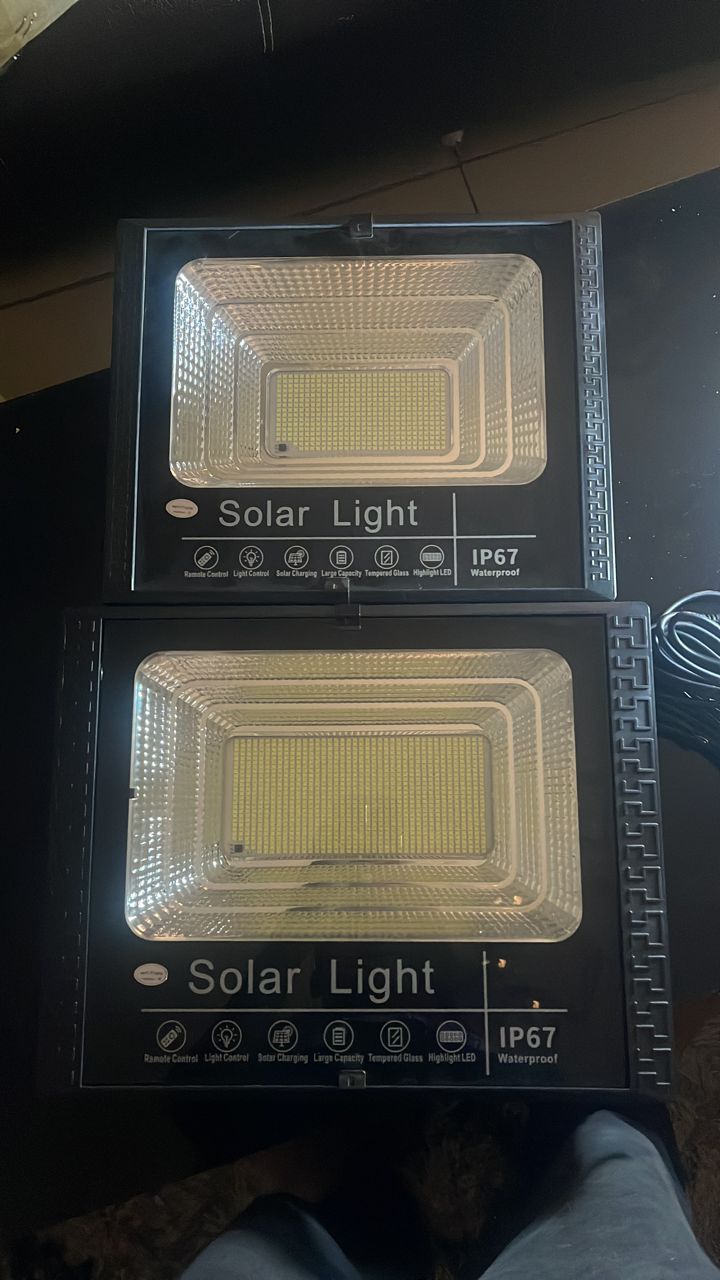 The photo above shows a clear difference between 400W and 800w Solar Led Light. The one above is 400W while the one below is 800W. Taking a very close look at the two items in the picture, you will find out the difference is clear. Another way to check if what you are buying is truly what it says it is. All you have to do is take some time out to count the number of led lights in the product to have an idea of what it is worth.

Check out this 800w solar led flood light outdoor, they also have other Solar light for sale in Nigeria.
If you count the amount of led light on the first item on the photo you will find out it's more than 400 led lights. To fix that, all you have to do is count the total amount of light on the horizontal line and multiply it by the total amount of led lights on the vertical line. You will find out the estimated led light to be 16*30 = 480led lights. Assuming one led light is equal to 1 watt. Then you have it, 400W Solar Led Light in Nigeria power.

800w Solar Led Light: How to be Sure of Product!
The same thing applies to the 800w Solar Led Light in the above picture. If you look closely and count following the same procedure as in the 400W. You will find out that the total amount of led light on the horizontal line is 40 and the vertical is 26. When you multiply the two, you will have approximately 1,040. That is more than enough proof that the 800W light is truly what you are paying for.
High Efficiency & Long Lifetime Polysilicon Solar Panels. Street light outdoors uses polycrystalline silicon photovoltaic panels with high photoelectric conversion efficiency. Solar light outdoor built-in 45000mAh large capacity lithium battery, to be fully charged in just 6-8 hours, providing a long working time of around 18-20 hours in bright mode. The Solar Led Flood Light has a total lifespan of 50,000 hours. That is a 5years lifespan. A very good value for money.

Difference between Solar Street light and Solar flood light

Solar street lights
A solar street light is powered by solar energy. It is found in parking lot areas and along different streets for lighting purposes. It runs on the battery plus photovoltaic panel that's charged during daytime for lighting at night. Solar Street light has other features too. For example motion sensors and remote controls. These can come in handy when illuminating difficult areas to the wire.
The next perks have made solar street lights popular each day:
They may be installed anywhere.
Are simple to install.
Have low maintenance.
Provide optimum lighting.
Better return on investment.
Renewable supply of energy.
Solar Flood Lights – The Two Piece Option
Solar flood lights are the best alternative for lighting a bigger area. They're motion-activated and provide extra lighting, which works perfectly for security purposes. With solar flood lights, you don't need certainly to be concerned about an expansion cable or replace your batteries. Other perks which make the solar flood lights escalation in demand include the next:
They've a timer and brightness option.
They are able to remain on for approximately eight hours without charging.
Motion sensors for detecting movement around your premises.
The motion sensors help conserve energy since they simply illuminate when there's movement in the area.