Yesterday we met again to see if they had hot pepper soup at the local African joint.
Logically, when these simple folks enter a pepper soup joint, it is like Ṣẹ̀lẹ́ enter spirit: matters get philosophically historical like a magical bra.
"We are in October again," I said, just because the bottle of stout looked chilled.
"October 20, 2020, is Lekki Massacre Day in Lagos," Chukwu-wumi informed us for no reason.
How he got that name only God knows.
"October 20, 2022, Nigeria has the largest number of youths in Africa," said Femo the chemist.
So what? I asked myself without saying it loud.
"Of the 210 million people in Nigeria, more than 70% are young people under the age of 30," Ada observed, drinking her pepper soup. She didn't stop there. "60% of Nigerian youths are unemployed," she added.
Ada is Igbo raised in Lagos and she sabi speak Yòròbá pass Ọmọ Eko.
I call her Adá-sí ni-lọ́rùn.
Since everybody was waxing philosophical, I was encouraged to talk and wanted to say, "October 1, 2022, universities in Nigeria have been closed for more than eight months."
But I decided to keep quiet.
I hate thinking when drinking. It spoils my pepper soup spirit.
"The anniversary of the Lekki Massacre is coming up on October 20," Chukwu-wumi announced again. "Shall we congregate to celebrate?"
"Congregate where to celebrate what?" Femooh argued. He continued: "History is a collection of the bloody lies we all agree to believe," He was on his third bottle of stout.
"The story of the government is different from the story of the people," Clara said, agreeing with Femooh. She usually doesn't agree with anything Femooh says. I think it was stout. She suspects Femooh wants to date her but is slow to make a move.
"Does anybody know what happened at Lekki on October 20, 2020?" Ada asked nobody in particular. Ada was looking at me. Does she like me? Dis omo Adá-sí ni-lọ́rùn sef.
"Let's change the subject," I said.
"Why?" asked Clara, looking at me like a hen about to catch a chicken.
"It's October," I replied.
"So what?" Femooh grunted. His eyes always shine like a pussycat after three bottles of stout.
"Will someone give him another bottle of stout and stop him from ruining my beer?" Chukwu-wumi told Patricia-da-people-waitress, pointing at me.
"It's still too early in October," I explained, taking the cold bottle of stout from Pat. "Anything could still happen."
"How could history know what happened on October 20, 1920, or October 20, 1820," Ada asked philosophically, "if nobody knows for sure what happened only as recently as October 20, 2020, at Lekki?"
Patricia began to play Nico Mbaga's "Sweet Mother."
Adá-sí ni-lọ́rùn jumped on the dance floor. "Prof, oya, come on: Sweet Mother, I no go forget you, for dis suffer wey you suffer for me ye….!"
These our Sháyó philosophers don come again o.
XXXXX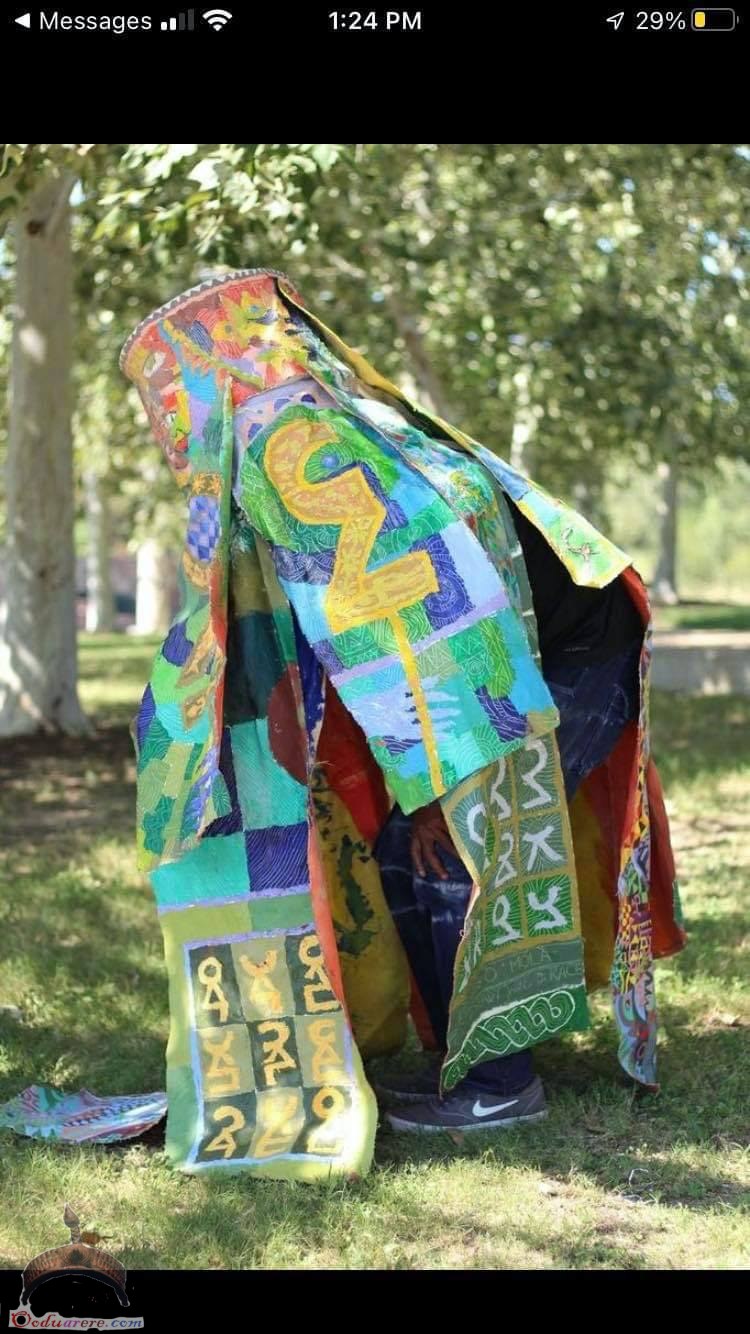 Pictures show me dancing with my Egungun at a local park in Austin.
See as my tennis dey show under the costume.
Prof. Moyo Okediji