A foremost expert on Yoruba culture and tradition and the Chairman, Ancestral Pride Temple Limited, Ota, Ogun State, Oluwo (Dr.) Faniyi Babatunde Fasola, has called on the Federal Government to recognize the importance of the role of herbal medical practitioners and adherents of traditional religion in nation building by declaring every August 20, a day which has been set aside by traditionalists worldwide to specially adore, appropriate and worship their gods, as a public holiday in the country.
Oluwo Fasola, who stated this in a chat with newsmen at Ota, Ogun State recently, noted that the adherents of traditional religion in the country would feel fulfilled to have every August 20 declared a public holiday to enable the traditional worshippers to join their counterparts in other parts of the world to celebrate it as a special day to appreciate their gods for protection as well as pray for guidance in the tasks ahead.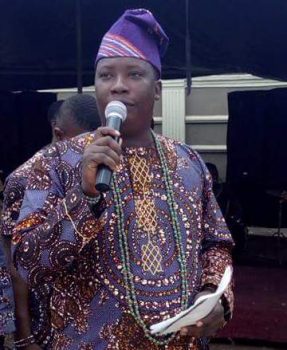 He stressed that in as much as the Christians and the Muslims were never denied holidays during the Christmas and Salah celebrations respectively, similar gesture should be extended to adherents of traditional religion.
The foremost herbal medical practitioner appealed to the government to accord necessary recognition to traditional worshippers in the country, stressing that he discovered to his consternation while on recent visitations to countries such as Brazil, Paraguay and South Africa that their various governments were seen according adherents of traditional religion their rightful place in the scheme of things.
Oluwo Fasola, renowned for his expertise in general healings, ifa consultations and initiations, provision of cure for diabetes, barrenness, hypertension, stroke and all forms of spiritual attacks, etc, had at various times received honours and awards such as the Oluwo Iledi Olodekoju(Lagos), the Ojubona of Ijo Orunmila Adulawo (Ota Temple), Chairman,Ifanikake association, President, Ijo Orunmila Adulawo Worldwide and founder Orunmila Brotherhood Foundation – all in appreciation of his contributions to the herbal medical sector of the nation's health industry and the Yoruba culture and traditional institution in general.
"All the awards are manifestations of the recognition of my contributions to nation building and my loyal and dedicated service to the growth of the herbal medical practice in particular and as a worthy custodian of Yoruba culture and tradition in general".
Speaking on his steadfastness and commitment to the herbal medical practice, Oluwo Faniyi Fasola, an Ifa Priest, gave all appreciations to his late father, Oluwo Fagbemi Fasola, the Oluwo-Ifa, Ado-Odo/Ota Local Government Area, Ogun State, Odofin Awo of Ibadanland and theBaba-ijo Orunmila Adulawo Temple, Ota, Ogun State, under whose tutelage he acquired the necessary skills, trainings and expertise, which today propelled him to his present height.