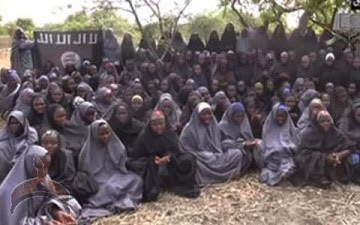 You can find strong indications that the 218 schoolgirls abducted 6 months ago in Chibok, Borno State, by the violent Boko Haram sect might be released on Monday.
The Federal Government, through the Nigerian military, had on Friday said so it had agreed to a ceasefire with the violent sect and that the Chibok girls would soon be released. And now in accordance with a brand new report on PUNCH, the President's Principal Secretary, Hassan Tukur, told BBC focus on Africa that the agreement to finish the Boko Haram hostilities have been reached after a month of negotiations in Saudi Arabia. The negotiation was said to have been headed by the Chadian President Idriss Deby.
Tukur said Boko Haram announced a unilateral ceasefire on Thursday and the government had responded
He said:
"The Boko Haram members have assured us that they have the girls and that they will release them. I am cautiously optimistic."

Tukur and Danladi Ahmadu, who calls himself the Secretary-General of Boko Haram, told VOA's Hausa-language service that the abducted girls would be released on Monday in Chad.

The girls are alive and "in good condition and unharmed," Ahmadu said.