The spokesperson for President Goodluck Jonathan's campaign team, Femi Fani-Kayode, on Wednesday stated that all his attacks against the president-elect, Muhammadu Buhari, and his party, the All Progressives Congress, during the electioneering, were what his job required of him and not personal.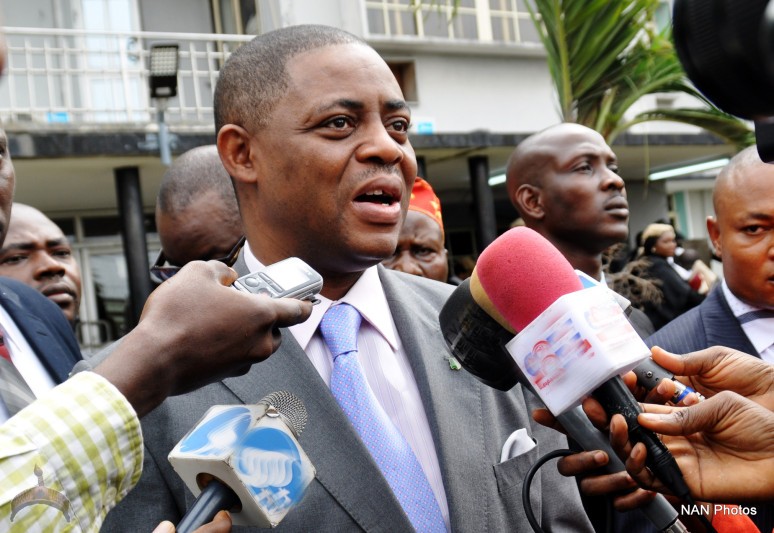 He also commended the APC campaign directorate for doing something "they believe in".
"There was absolutely nothing personal as regards this Directorate or myself. I had nothing personal against anybody. I was simply doing my job for which I have no regrets and I wish them well and I sincerely hope that they will take Nigeria to a level that we can all be proud of," he said.
Mr. Fani-Kayode also congratulated Mr. Buhari for his victory and also commended President Jonathan for conceding defeat.
"We start by saying that we commend and we congratulate General Muhammadu Buhari for winning this election. We also wish to commend our President, President Goodluck Jonathan, for having the courage to concede that he has lost the election at the earliest moment and also for being able to stand up and rise above party politics and being able to speak like a statesman," he said.
The former Aviation Minister also prayed for peace in the country and success for Mr. Buhari.
"May God grant each and everyone of us peace. May He watch over our nation. May He guide our President for the next two months whilst he is still in power and thereafter and may He guide and lead the President-elect, General Muhammadu Buhari, in the herculean task that lies ahead for him.
"My prayer is that he brings our nation together, heals the wounds and that he builds the bridges in terms of religion, ethnicity and region that he needs to build in order for us to make Nigeria a better place and to ensure that Nigeria becomes a great country that she is destined to be," he said.
He called on Nigerians to continue to support the PDP, despite losing the election.
He also asked for full cooperation to the incoming administration "and to remember that we are first and foremost Nigerians before anything else".
Mr. Fani-Kayode said he had no regret for serving Mr. Jonathan and the PDP. He also advised the PDP not to lose hope.
"And having lost, it does not mean that it is the end to the world, it just means that we need to re-group, re-organise ourselves and begin the process all over again because another elections will come in a few years' time.
"And that is where we are today. We have conceded that we have lost. We acknowledge the fact that we fought a good fight. We do not have any fears about the future. We did the right thing during the campaign. We have no regrets about our candidate or the way in which we conducted our campaign and we will live to fight another day," he said.