The German Chancellor, Angela Merkel, has invited the President- elect, Gen. Muhammadu Buhari, to the forthcoming Group of Seven industrialized nations of the world (G-7) summit in Berlin.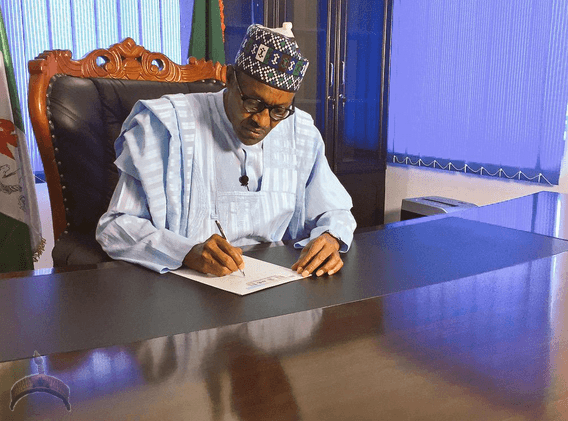 The invitation to the summit slated for May 8 and 9 in the German capital was delivered to Buhari by the German Ambassador to Nigeria, Michael Zenner, at the Defence House, Abuja, on Tuesday. The G-7 nations are Canada, France, Germany, Great Britain, Italy, Japan, and the United States.
Merkel is the head of the G-7 group.
The Ambassador, however, did not elaborate on the details of the letter, but told journalists after holding a closed- door meeting with the President- elect that he came to congratulate him (Buhari) on his election and handed over to him the letter from the German Chancellor, inviting him to the G7 summit.
"We have a very deep and intense relation with Nigeria and there are several areas where we can deepen our relation and develop them further such as in the area of economy and energy among others.
"We have a bi- national commission with Nigeria and we are one of the countries with which Nigeria has this bi-national commission and it covers the whole range of political, economic and security areas. There are many areas in which we can move further and deepen our very close cooperation," the envoy stated.
The French Ambassador to Nigeria, Denys Gauer, who was also at the Defence House, said the French government was ready to collaborate with the Nigerian government to end terrorism in the country in particular and the sub-region in general.
He told journalists after his meeting with Buhari that "As the French Ambassador, I came to congratulate the President- elect for his brilliant achievement. His election is an enormous achievement for Nigeria and the democratic development of Nigeria. The people of Nigeria had expressed their confidence in the President- elect. The challenges of Nigeria are enormous and I have come to wish him success.
"We also held a small talk about our bilateral relations. As you know, our relationship has developed quite well in recent years. In the economic field, Nigeria is already the first commercial partners of France in Africa."