The Director of Defense Information, Maj. Gen. Chris Olukolade, has said the troops of the Nigerian Army have captured Gwoza, the central station of the Islamic Caliphate, announced by the Boko Haram radicals in the North-East. Olukolade said in articulation in Abuja on Friday that the city tumbled to a joint operation completed by the ground strengths and the military pilots of the Nigerian Air Force on Friday morning.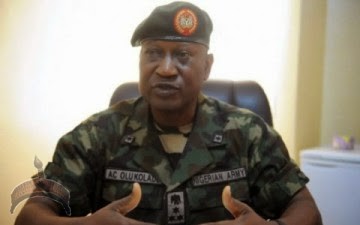 According to him, the troops killed several of the insurgents and captured many others. The Defence spokesman added that troops levelled the operational headquarters of the insurgents and seized several arms and ammunition from them. He said the military had liberated all communities erstwhile occupied by the insurgents as of Thursday when the battle to reclaim Gwoza was raging.
He said,
"Just this morning, the gallant troops of the Nigerian military in a concerted and well-coordinated land and air operations, liberated Gwoza, the headquarters of their(Boko Haram) so-called caliphate, which they renamed Darul Hikima.

 

"This was preceded by successive sacking of terrorists from towns and villages leading to Gwoza, the main target. Several of the terrorists died and many of them captured in the process. A lot of arms and ammunition have been recovered and the administrative headquarters completely destroyed.

 

"A massive cordon and search (operation) has commenced to locate any of the fleeing terrorists or hostages in their custody."
He explained that the military observed that some of the fleeing terrorists were heading to the borders, where they might have encounter with troops of the Multi National Joint Task Force, who are under instruction to contain them.