By Laurent Schiaparelli for Ooduarere via The Saker Blog
How to keep the Empire's subjects asking for more submission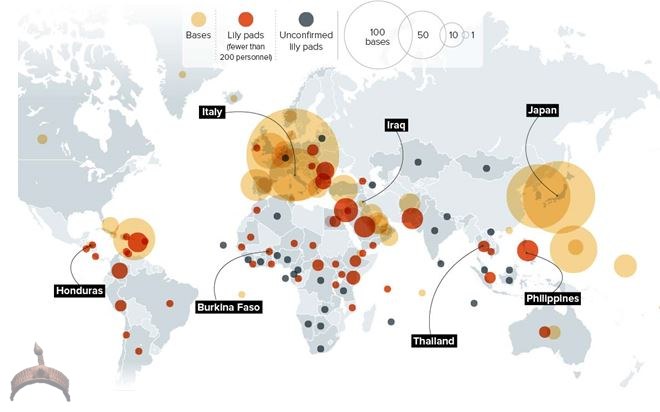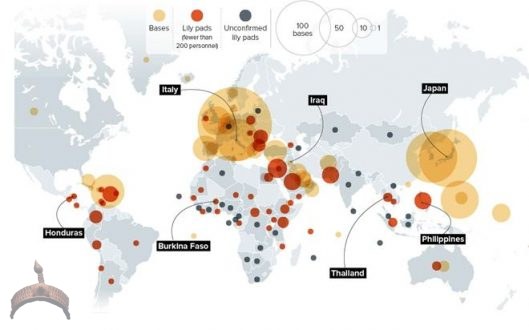 Much has been written about how Hollywood has demonised Arab Muslims, Russians, French or Chinese people, depending on the geopolitical wars fought by the US abroad.
Much less has been said about how the prospects of a successful career in Hollywood or Las Vegas have been used as a dog treat thrown to the dwellers of the Empire's provinces in Europe, and to a lesser extent in Asia, to create the impression of benevolence of the Empire towards its subjects.
In a nutshell, the message delivered to Europeans and Asians is that instead of yearning for success and recognition in their own country, in their own cultural codes, they would be better off living the American Dream and have a crack at Hollywood. Europeans and Asians are conditioned to think that they have everything to benefit from being submissive to Uncle Sam (whose full name we'd like to know) and consume American cultural and manufactured products.
This trend started in the late 1970's and has followed a simple but effective strategy: pick one fame-lusting "slasher" (athlete / actor, actor / model, etc.) from a European or Asian country, import him more or less legally into the US, make him go through years of formative hardship, going from one menial job to another during the day while hitting the gym and attending auditions at night, to finally land a role in Hollywood and eventually become an international movie star, and a role-model in his country of origin.
Our purpose is in no way to belittle the hard work and the hard times that these celebrities had to go through in order to make it big. Our aim here is to demonstrate that these European and Asian celebrities were hand-picked to serve a specific purpose. They were selected and used for the geopolitical purpose of strengthening America's soft power over regions already under its thumb, but who could slip out of its grip at any given time.
One could even argue that these feel-good rags-to-riches immigrant stories are in fact the soft side of the post-second World War stay-behind operations such as the Gladio network.
Your gladiators will perform in Rome
There are over 800 US Army bases outside of the US. From large bases hosting thousands of military personnels to innocently called lilypads hosting a few hundreds of special forces and intelligence personnel, they are to be found in virtually every country in Europe, Africa and Asia. According to Ami go home: Zwölf gute Gründe für einen Antiamerikanismus (Twelve Good Reasons for Anti-Americanism) by Wilhelm Langthaler and Werner Pirke (Wien, Promedia, 2003), the authoritative book on the subject, even countries that were thought to be free of US military presence (such as Austria) actually host discrete, if not secret US installations (listening posts, military bases), without revealing their location or the number of personnels.
Coincidentally (or not), every major European country with a history of hosting massive US or NATO military installations and troops, or a major imperial inter-governmental organisation have had one, and one only local hero allowed to succeed in Hollywood. We've compiled a list of countries with US /NATO military presence and their homegrown Hollywood movie star.
It's the geology, stupid !
In the 21st century, this trend continues in the new battlefields of America's "oil-for-democracy" push in Africa, not so much with film celebrities, but with athletes.
Mixed-martial arts are a popular avenue for African athletes trying to achieve some level of success in the West, and the successful ones come from the same countries where the US is stationing bases.
For instance, the mixed-martial arts promotion Ultimate Fighting Championship's heavyweight juggernaut, and probably soon-to-be crowned champion Francis Ngannou is a French-Cameroonian. The US happened to open in 2017 and operate till today the Contingency Location Garoua in Garoua, North Cameroon, at the exact time Francis Ngannou started to be heavily promoted in the UFC.
There are 11 known lilypads in Africa, and coincidentally more African-born athletes start to be heavily promoted in the UFC, such as Nigerian-New Zealander newly-crowned middleweight champion Israel Adesanya and Nigerian-American newly-crowned welterweight champion Kamaru Usman, who both proudly carry Nigerian flags whenever there is a photo-op and talk extensively of their immigrant backgrounds. Nobody had ever heard their name before their meteoric rise which started about two years ago.
In Asia, the scope of this strategy has been smaller (the extent of the American influence being contained to Korea, Japan, Taiwan and Hong Kong), but not less successful, as the recent anti-China riots in Hong Kong have shown. The unexpected crowning of the first ever Chinese UFC fighter, Zhang Weili, at the UFC's first event organised in Shenzhen (right across the border with Hong Kong) in 2019, at the height of the riots in Hong Kong, against the Brazilian champion, who was a strong favorite, is too much of a coincidence not to raise eyebrows.
The recent selection by the UFC Performance Institute in Shanghai of no less than 20 Chinese and Hong Kong fighters, at the height of the political crisis in Hong Kong, is the same effort to further penetrate the Chinese market and lure young people to the US and its ideology of liberal hedonistic individualism.
The UFC is owned by WME-IMG, a talent agency co-owned by Ari Emanuel, brother of Rahm "Rahmbo" Emanuel, former Chief of Staff of Barack Obama and former mayor of Chicago, who in 2012 passed the Welcoming City Ordinance to make Chicago a "sanctuary city" for illegal immigrants. Other major shareholders are Egon Durban (board member of Silver Lake, Dell, co-board member with Chelsea Clinton at the Grace Foundation), Silver Lake Fund (notably Glenn Hutchins, former Senior Adviser and Special Advisor to the Clinton administration), Michael Dell (through his investment fund MSD Capital), and Kohlberg Kravis Roberts.
The UFC is a 100% Democrat-leaning company, posing as a patriotic company (with programs with the US Army veterans), while in fact peddling the same pro-migrants, pro-feminism (the UFC initiated women MMA fights, which the president of the UFC, Dana White, publicly said would never happen under his watch, before inexplicably changing his mind), pro-LGBT (the UFC boasts having the first ever lesbian female champion, as if sexual preferences were relevant to martial arts) propaganda as Hollywood and MSM media.
Unsuspecting accomplices
This sudden rise of African and East-Asian fighters, quickly groomed at the UFC Performance Institutes in Las Vegas and Shanghai, matched up again sub-par opponents to pad their record before being lined-up in championship fights with less-than-convincing and sometimes eyebrow-raising victories, is no coincidence and must be looked at from the same perspective as the Soros-sponsored African migration condoned by Democrats in the US and governments in the EU.
Here again, we do not take away any of the hard work and dedication from these athletes, who probably have no idea why they are being pushed to the front stage, and probably think their success is only due to their talent.
The fact that President Trump is an open supporter of the UFC has nothing to do with this Democrat-sponsored brain-washing effort, but more to do with a few American fighters that he has personally supported and congratulated in the past (Tito Ortiz, Colby Covington, Jorge Masvidal) because they carry high the American flag and the values of hard work, sacrifice and patriotism, and that one can assume a majority of UFC fans are middle-class Americans who voted for Trump.
Audiences in the US and Europe are starting to wake up and realise they have been served an increasingly vapid globalist propaganda, insidiously inserted in their favorite entertainment. The continuously declining box office receipts of famous Hollywood franchises (the Star Wars, The Avengers, Terminator, Rambo, etc.) are proof of the Western's audiences fatigue towards this "United Colors of America" nonsense.
These film franchises, together with sports, have become vehicles of aggrandisement of minorities and belittling of the majority, primarily delivering a political message, that of the distorted definition of democracy, which places active minorities above and in control of the silent majority.
The celebrities created by this monstrous propaganda machine are, one can only hope, unsuspecting accomplices. But they ought to wake up to the fact that they are mere tools of a System that does not wish well to their countries of origin, if it hasn't already enslaved them.