Leaders of the All Progressives Congress in Delta State, on Tuesday staged a protest at the gate of the Independent National Electoral Commission in Asaba, alleging manipulation of the results of the presidential election in the state.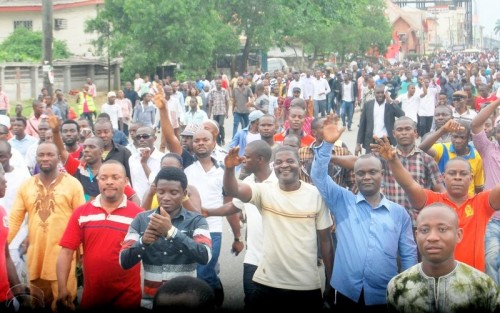 The group, led by the party's governorship candidate in the state, Mr. O'tega Emerhor, stormed the INEC office at about 11.20am and were barred from entering the premises, where the collation of results from the local government areas was still going on.
The APC leaders, who chanted victory songs for the party's presidential candidate, Muhammadu Buhari, queried why it was taking so long to conclude collation of the results from Delta State, when results from most states had already been announced.
Emerhor claimed that the announcement Delta result was being delayed because the figures were being inflated in some local government areas of the state in favour of the Peoples Democratic Party candidate, President Goodluck Jonathan.
He said, "There are two sets of results in some local government areas. Isoko South, Isoko North, Warri South-West, Ughelli North and Ethiope West have two sets of results.
"Our agent inside called us to tell us that the result that is being collated here is different from the results that were originally distributed to us. We don't even accept the first set of results because they were fabricated. What we are talking about now is second degree inflation.
"This is not an allegation, our agent told us that he had reported to the state collation officer and he told him to fill an incident form. That means they want to take the inflated result to Abuja and we are saying we will not accept it."
In his reaction, the PDP's state agent for the presidential election, Funkemeke Solomon, denied the claims and commended the INEC for conducting the election with "integrity and transparency."
Solomon, who is the state Commissioner for Works, said, "I believe they are entitled to their opinion. Section 131 of the Electoral Act stipulates that anybody that is not satisfied with the conduct of the election should go to tribunal."