A Lagos-based lawyer, Mr. Femi Falana (SAN), has advised the Ekiti State governor, Ayo Fayose, to take the impeachment notice served on him by the 19 All Progressives Congress members of the state House of Assembly seriously, saying the notice is valid before the law.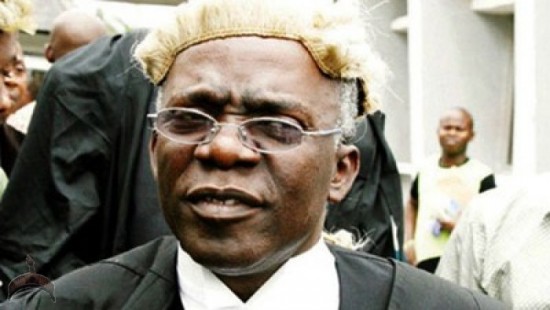 Citing sections 91, 96 and 188 of the country's constitution, Falana explained that what was required to serve an impeachment notice was one-third of the members of the assembly, noting that the 19 members that signed the notice were more than the one-third of the total legislators required by the constitution.
He added that the constitution did not also stipulate that the impeachment notice must be signed in the Assembly chamber.
"Once the governor receives the notice, it has to be taken seriously because impeachment is a serious matter in the Constitution. That is why I am advising the governor to take this matter very seriously. He should seek legal advice on this matter," Falana said.
Falana said,
"Section 96 (1) says the quorum of a House of Assembly shall be one-third of all the members of the House. In the case of Ekiti, the very least that can sit is eight members.

"Section 188 says that whenever a notice of any allegation in writing is signed by not less than one-third of the members of the House of Assembly and is presented to the Speaker that is known to law, the Speaker shall, within seven days of the receipt, cause a copy to be served on the governor or the deputy governor. That is enough to put the engine in motion for the impeachment of a governor. The constitution does not say the letter must be signed in the House.

"And from the look of things, that constitutional provision has been met. I do hope that the governor will take this notice very seriously, and react under the law."