Godsday Orubebe's profile on Wikipedia just got updated that he attempted to disrupt 2015 general election result announcement on March 31.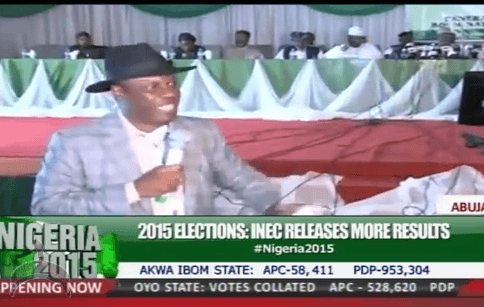 Orubebe, the agent of the Peoples Democratic Party at the announcement of the presidential election in Abuja, had called for the stoppage of the presentation of the results on Tuesday.
Shouting on top of his voice, Orubebe, a former Minister of the Niger Delta Affairs, alleged that INEC Chairman, Prof. Attahiru Jega, had taken side with the All Progressives Congress.
At the venue of the results presentation on Tuesday, the PDP agent shouted, "You sent a committee to Rivers to probe what happened there. We submitted petitions to you about Kano, Jigawa, Katsina but you have not done anything about our complaints. You cannot continue with these results; we will not take it."
As Jega tried to calm him down, asking to be given a chance to respond, Orubebe shouted, "Mr. Jega, You cannot continue, go to your office. You are partial. We don't have any confidence in you. We will not allow this. You cannot continue. You must stop the results."