If you see anyone or group backing Buhari deregulation and same groups or people didn't back Jonathan, the only reason is TRUST. Nigerians trust Buhari for his transparency and patriotism. Nigerians never trusted Jonathan and there were enormous reasons not to do so. Two months after he became president his first achievement was to buy 3 additional jets, another obvious reasons was his bombing of Abuja on the first of October 2010, where he defended the bombers that they didn't do it, the next day they were all in Aso Rock to give him support.
For the 16 yrs of PDP Nigerians did not know what is Budget padding, but our patriotic and honest President came out openly to fight the padding where people collect money for ghost projects. Why won't we trust such a leader? Jonathan and his 40 thieves obliterated Nigeria and his blind sycophants now want magic.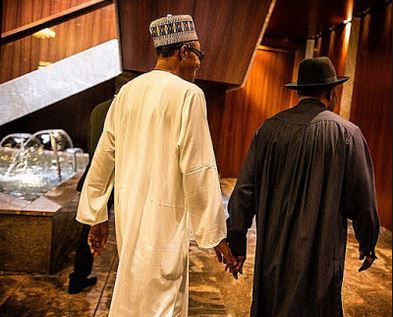 Where were you when Jonathan was looting us dry, sacking the whistle blower for $20B for the thieves? Where were you when one single minister chartered private jets for N10B and Jonathan under democracy instructed her not to answer NASS for questioning? Where were you when Jonathan neglected our military and gave security and surveillance of facilities to the criminals running into billions annually? Where were you when Jonathan said he was afraid of going to Sambisa forest that is today a tourist center where aljazeeras cable network had gone for documentary recently? Where were you when Jonathan made his wife the first lady and the permanent Secretary Education in Balyesa? Where were you when Jonathan said 17 was bigger than 19 in an NGF election that had nothing to do with him? Finally where were you when in all lands available, Jonathan wife fought and dragged a parcel of land from the wife of our late President Yar Adua? The Change is evidence even though not easy.
Jonathan was never trusted and Nigerians were right By Victor Owens Teddy